»

Recipes

»

Beef

»

Herb-Rubbed Rib Roast
Herb-Rubbed Rib Roast Recipe
Love beef? A Dijon and fresh herb rub make this roast extra special.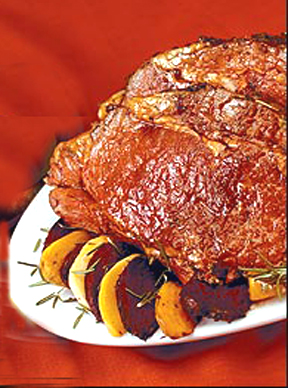 Ingredients
Rib roast

1 Pound

Beef rib roast

4 Pound

Garlic

1 Clove (5 gm)

, cut in half

Chopped parsley

3⁄4 Cup (12 tbs)

Chopped thyme leaves/1 1/2 teaspoons dried thyme leaves

1 1⁄2 Tablespoon

Chopped rosemary leaves/1 1/2 teaspoons dried rosemary leaves

1 1⁄2 Tablespoon

Garlic

2 Clove (10 gm)

, finely chopped

Olive oil/Vegetable oil

1 Tablespoon

Peppery horseradish sauce

1 Tablespoon

Reduced fat sour cream/Regular sour cream

1 Cup (16 tbs)

Horseradish sauce

1 1⁄2 Tablespoon

Country style dijon mustard

1 1⁄2 Tablespoon

Ground pepper

1⁄4 Teaspoon
Nutrition Facts
Serving size
Calories 905 Calories from Fat 440
% Daily Value*
Total Fat 49 g74.8%
Saturated Fat 18.8 g94.1%
Trans Fat 0 g
Cholesterol 300.7 mg
Sodium 334.2 mg13.9%
Total Carbohydrates 6 g2%
Dietary Fiber 1.4 g5.7%
Sugars 0.2 g
Protein 103 g206.6%
Vitamin A 15.4% Vitamin C 21.6%
Calcium 13.4% Iron 57%
*Based on a 2000 Calorie diet
Directions
1. Heat oven to 325ºF. Place beef, fat side up, on rack in shallow roasting pan. Rub garlic halves over beef. Spread 1/4 cup mustard over top and sides of beef. Mix remaining Rib Roast ingredients except oil; stir in oil. Spread herb mixture over top and sides of beef.
2. Insert meat thermometer so tip is in center of thickest part of beef and does not touch bone. Roast uncovered 1 1/2 to 2 hours for medium doneness (155ºF).
3. Meanwhile, mix all Peppery Horseradish sauce ingredients. Cover and refrigerate at least 1 hour to blend flavors.
4. Cover beef loosely with foil tent and let stand about 15 minutes before carving. (Temperature will rise about 5°.) Serve with Peppery Horseradish Sauce.