»

Recipes

»

Dip

»

Heavenly Garlic Dip With Crudites
Heavenly Garlic Dip With Crudites Recipe
Heavenly Garlic Dip With Crudites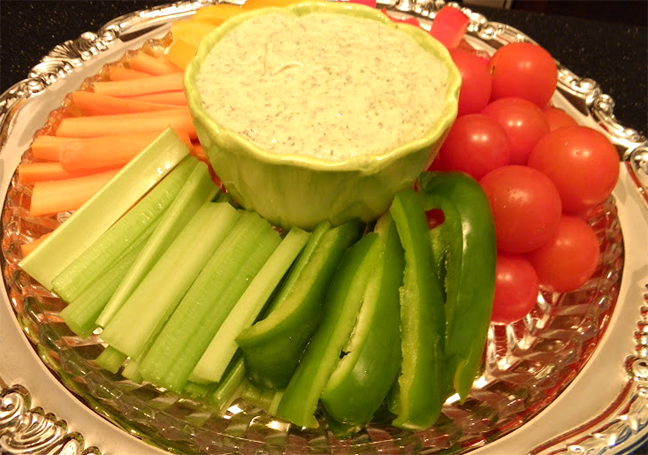 Ingredients
Garlic bulbs

2

Olive oil

2 Tablespoon

Onion

1 Small

, finely chopped

Lemon juice

2 Tablespoon

Tahini

3 Tablespoon

(Sesame Seed Paste)

Parsley

2 Tablespoon

, chopped

Salt

To Taste

Pepper

To Taste

Vegetable crudites

1⁄2 Cup (8 tbs)

French bread/Warmed pocket breads

1
Nutrition Facts
Serving size: Complete recipe
Calories 781 Calories from Fat 477
% Daily Value*
Total Fat 55 g85%
Saturated Fat 7.8 g38.9%
Trans Fat 0 g
Cholesterol 0 mg
Sodium 1134.4 mg47.3%
Total Carbohydrates 64 g21.2%
Dietary Fiber 9.5 g37.9%
Sugars 12.9 g
Protein 16 g32.7%
Vitamin A 51.3% Vitamin C 111.6%
Calcium 16.6% Iron 32.5%
*Based on a 2000 Calorie diet
Directions
GETTING READY
1. Preheat the oven to 400°F
2. Remove the first layer of papery skin from the garlic bulbs and spilt the cloves.

MAKING
3. On a baking sheet, scatter the garlic cloves and place them in the preheated oven.
4. Roast the garlic for 8-10 minutes sautéing them occasionally to allow even browning.
5. Remove and let them rest for a while.
6. When cool enough to handle, peel and roughly chop the garlic.
7. Take a small skillet or sauté pan and heat the oil over moderate heat.
8. Add the chopped garlic and the onions and sauté them for about 10 minutes until the onion is soft and lightly browned.
9. In the mean time mix the lemon juice, tahini and parsley in a small heat resistant serving bowl.
10. Tip the garlic mixture into the bowl and stir to blend well.
11. Taste and season with salt and pepper according to preference.
12. Keep warm until ready to serve.

SERVING
13. Serve the wonderfully rich and garlicky dip with fresh vegetable crudites, chunks of crusty bread or warm pocket breads.