»

Recipes

»

American

»

Hearty Beef Stew
Hearty Beef Stew Recipe
Hearty Beef Stew has an Incredible taste. The beef and carrots, and potatoes give the Hearty Beef Stew Exhilarating taste.
Beef Stew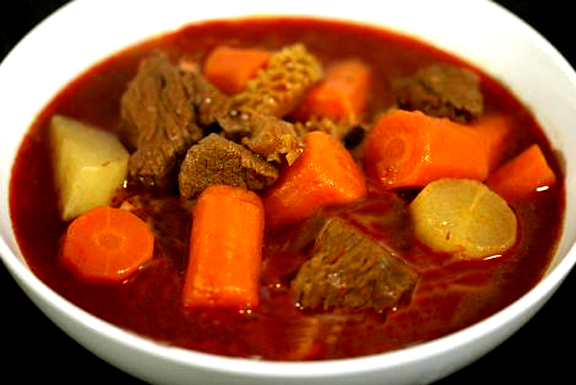 Ingredients
Beef chuck

2 Pound

, cubed

Flour

1⁄4 Cup (4 tbs)

Vegetable shortening

1⁄4 Cup (4 tbs)

Water

4 Cup (64 tbs)

Tomato sauce

1 Can (10 oz)

Chopped onion

1⁄4 Cup (4 tbs)

Garlic salt

1⁄2 Teaspoon

Bay leaf

1

Salt

2 Teaspoon

Pepper

1⁄4 Teaspoon

Potatoes

6 Medium

, pared and quartered

Carrots

6 Medium

, pared and cut in 1 inch pieces

Onions

3 Medium

, quartered

Cold water

1⁄4 Cup (4 tbs)

Cornstarch

1⁄4 Cup (4 tbs)
Nutrition Facts
Serving size: Complete recipe
Calories 4259 Calories from Fat 1954
% Daily Value*
Total Fat 218 g335.1%
Saturated Fat 79.5 g397.3%
Trans Fat 6.7 g
Cholesterol 598.7 mg
Sodium 5607.5 mg233.6%
Total Carbohydrates 371 g123.8%
Dietary Fiber 50 g200%
Sugars 68.3 g
Protein 213 g426.4%
Vitamin A 1254.9% Vitamin C 520.7%
Calcium 60.9% Iron 166.8%
*Based on a 2000 Calorie diet
Directions
Coat beef cubes with flour.
In Dutch oven, brown meat in hot vegetable shortening.
Add the 4 cups water, the tomato sauce, the chopped onion, garlic salt, bay leaf, salt, and pepper.
Bring to boiling; reduce heat.
Cover and simmer 1 1/2 to 2 hours or until meat is tender.
Add potatoes, carrots, and quartered onions; cover and simmer 50 to 60 minutes or until vegetables are tender.
Combine cold water and cornstarch; stir into meat mixture.
Cook and stir until mixture thickens, about 5 minutes.
Remove bay leaf.