»

Recipes

»

Cheese

»

Fondue

»

Hearty Beef Fondue
Hearty Beef Fondue Recipe
An appetizer that sets the mood for the evening…this hearty beef fondue is simply outstanding. Deliciously flavored beef served with fondue…yummm.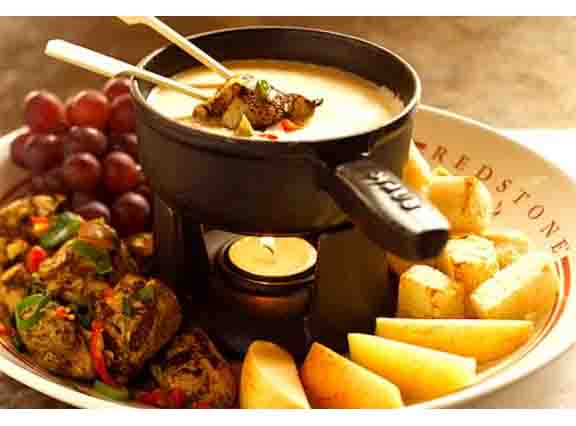 Ingredients
Sirloin steak

2 Pound

Peanut oil

2 Cup (32 tbs)

Tomato

3⁄4 Cup (12 tbs)

, diced (peeled)

Green pepper

1⁄3 Cup (5.33 tbs)

, finely diced

Cucumber

1⁄4 Cup (4 tbs)

, finely diced (peeled)

Tomato paste

1⁄4 Cup (4 tbs)

Onion

2 Tablespoon

, finely chopped

Parsley

1 Tablespoon

, finely chopped

Lemon juice

1 Tablespoon

Salt

3⁄4 Teaspoon

Pepper

1⁄4 Teaspoon

Sugar

1⁄2 Teaspoon

Paprika

1⁄4 Teaspoon

Garlic

3⁄4 Teaspoon

, minced

Cornstarch

1 Teaspoon
Nutrition Facts
Serving size: Complete recipe
Calories 5920 Calories from Fat 5001
% Daily Value*
Total Fat 563 g866.7%
Saturated Fat 122.2 g611.2%
Trans Fat 0 g
Cholesterol 426.3 mg
Sodium 2011.5 mg83.8%
Total Carbohydrates 33 g11.2%
Dietary Fiber 6.6 g26.5%
Sugars 16.6 g
Protein 190 g379.4%
Vitamin A 83.4% Vitamin C 165.2%
Calcium 30% Iron 95.8%
*Based on a 2000 Calorie diet
Directions
GETTING READY
1. Fill fondue pot 2/3 full with peanut oil.
Heat on burner of stove to 425 degrees or until small piece of steak browns. Place pot oil on fondue stand in center of table over canned heat.

MAKING
2. Trim all fat from steak; cut into 1-inch cubes.
3. Dry steak; let stand at room temperature.
4. Combine tomato, green pepper, cucumber, tomato paste, onion, parsley, lemon juice, 1 tablespoon peanut oil, salt, pepper, sugar, paprika and garlic in blender. Whirl just until the mixture is liquefied. Stir in cornstarch; pour into saucepan. Heat, stirring, until mixture comes to a boil; reduce heat. Cook for 1 minute.

SERVING
5. Have each guest spear steak with long-handled fork and dip in oil.
6. Cook steak cubes to desired doneness. Dip into hot sauce.