»

Recipes

»

Soup

»

Hearty Potato Soup
Hearty Potato Soup Recipe
Potato Soup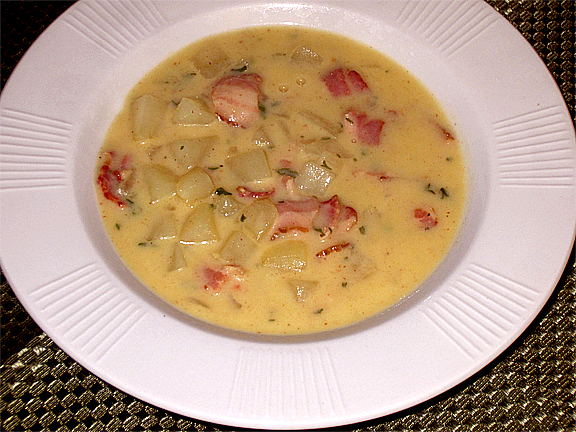 Ingredients
Smoked bacon

4 Ounce

, preferably in the piece, cut into 1/2 inch cubes (125 Grams)

Cabbage

6 Ounce

, shredded (185 Grams)

Potatoes

4

, peeled and cut into 1/2 inch cubes

Onion

1 Large

, roughly chopped

Chicken stock

3 1⁄2 Pint

(2 Liter)

Salt

To Taste

Freshly ground black pepper

To Taste

Allspice

1 Teaspoon

Chopped fresh parsley

3 Tablespoon
Directions
1. Heat bacon in a heavy saucepan until the fat runs. Shake pan and continue to cook bacon until crisp. Add cabbage, lower heat, cover and cook for 10 minutes.
2. Add potatoes, onion and stock to pan, with salt, pepper and all-spice to taste. Bring to boil, lower heat and simmer for 30 minutes.
3. Remove the lid and cook for 15 minutes more, stirring. Serve sprinkled with the parsley.