»

Recipes

»

Noodle

»

Healthy Veggie Hakka Noodles
Healthy Veggie Hakka Noodles Recipe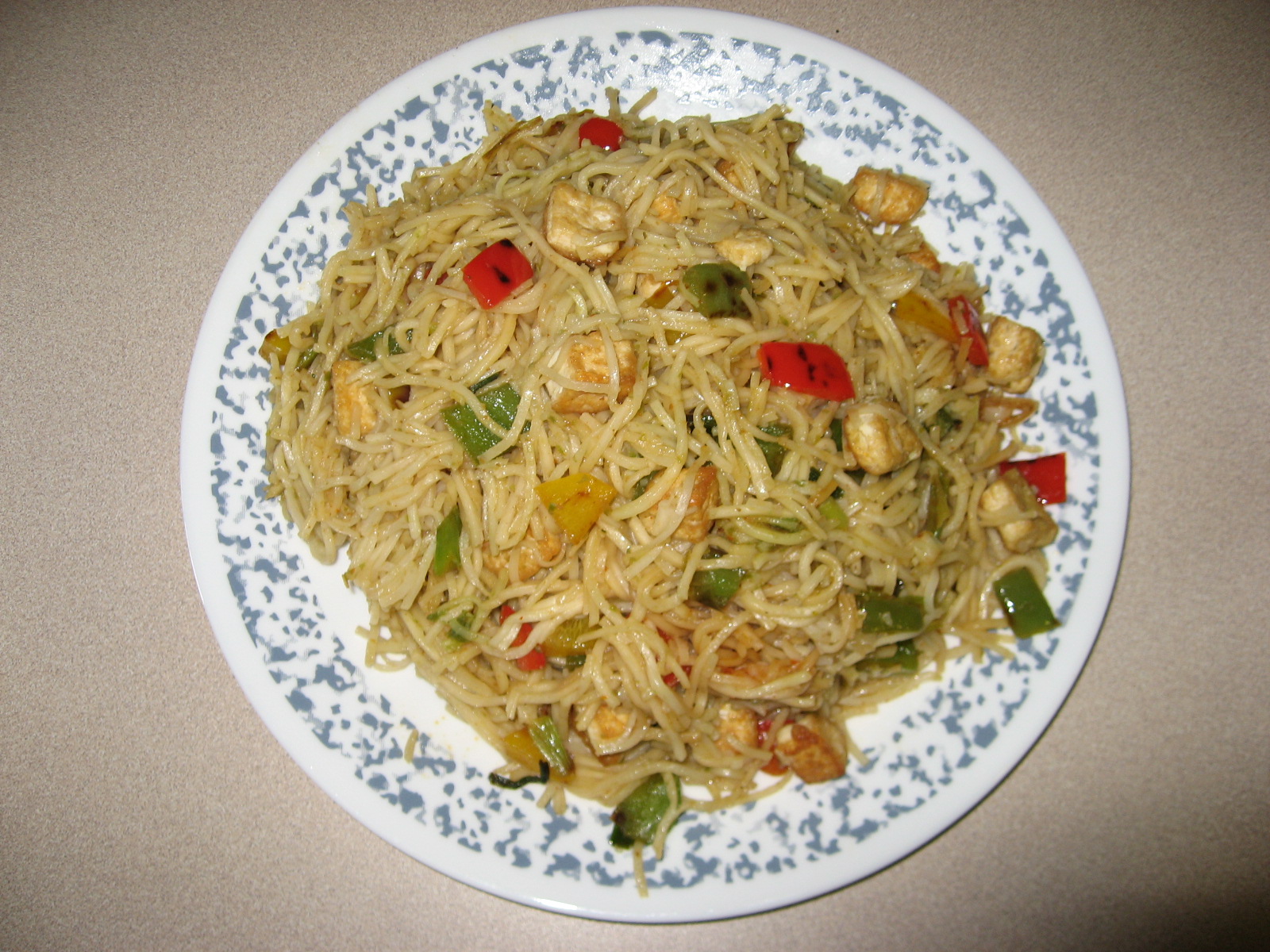 Ingredients
Hakka noodles

225 Gram

(vegetarian)

Red pepper

1⁄2

, cut into cubes (Capsicum)

Green peppers

1⁄2

, cut into cubes (Capsicum)

Yellow peppers

1⁄2

, cut into cubes (Capsicum)

Firm tofu

500 Gram

, cut into small cubes (0.5 Pounds)

Shredded carrot

1⁄2 Cup (8 tbs)

Shredded cabbage

1⁄2 Cup (8 tbs)

Soy sauce

4 Tablespoon

Chilly sauce

2 Tablespoon

Tomato ketchup

3 Tablespoon

Salt

To Taste

Pepper

To Taste
Nutrition Facts
Serving size
Calories 454 Calories from Fat 65
% Daily Value*
Total Fat 8 g11.7%
Saturated Fat 1.1 g5.5%
Trans Fat 0 g
Cholesterol 0 mg
Sodium 1386.9 mg57.8%
Total Carbohydrates 74 g24.8%
Dietary Fiber 3.5 g14.2%
Sugars 6.9 g
Protein 24 g47.2%
Vitamin A 100.3% Vitamin C 152.4%
Calcium 33.8% Iron 30.8%
*Based on a 2000 Calorie diet
Directions
Boil 10 cups of water in a deep vessel. Once the water starts boiling, drop Hakka noodles into the water, separating the noodles with a pair of tongs. Cook the noodles for about 5 minutes (until the noodles have become tender, do not over cook them). Drain the water. Add a tbs oil to the noodles so that they don't stick to each other. Add salt & pepper. Keep aside

Fry tofu cubes in 1 tbs oil in an open pan until tofu cubes turn brownish. Keep aside.

Fry the peppers/capsicum cubes until the sides become browned. Keep aside.

Saute shredded carrot & shredded cabbage for about 15 seconds in the same pan (optional).

Heat a deep vessel. Add the noodles, tofu, peppers. Mix well. Add soy sauce, chilly sauce & tomato ketchup. Mix until the sauces coat the noodles well. Remove from stove.

Serve Immediately.