»

Recipes

»

Asian

»

Headhunter's Satay Sauce
Headhunter's Satay Sauce Recipe
Satay Sauce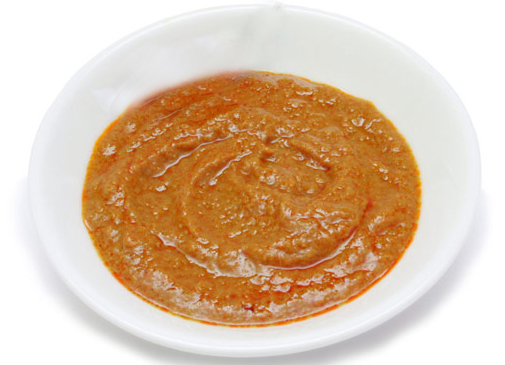 Ingredients
Lemon peel strip

1

Red onion

1

, chopped

Soy sauce

1 Tablespoon

Vegetable oil

2 Tablespoon

Coriander seeds

1 Teaspoon

Cilantro stalks

1 Tablespoon

, chopped

Cumin

1 Teaspoon

Turmeric

1 Teaspoon

Cinnamon

1⁄4 Teaspoon

Sugar

1 Teaspoon

Salt

1 Teaspoon

Unsalted peanuts

2 Tablespoon

, finely chopped

Fresh chili

1

, chopped (Like Serrano)
Nutrition Facts
Serving size: Complete recipe
Calories 586 Calories from Fat 411
% Daily Value*
Total Fat 47 g73%
Saturated Fat 6.3 g31.3%
Trans Fat 0 g
Cholesterol 0 mg
Sodium 2810.7 mg117.1%
Total Carbohydrates 36 g12%
Dietary Fiber 11.4 g45.8%
Sugars 17.3 g
Protein 13 g25.6%
Vitamin A 29.1% Vitamin C 113.4%
Calcium 19.9% Iron 50.7%
*Based on a 2000 Calorie diet
Directions
MAKING
1) In a food processor, put all the ingredients. If a less hot satay is preferred, take the seeds out of the chili before processing it.
2) Lightly pulse to chop and mix them together.
3) Allow the mixture to stand for sometime at room temperature so that all the flavors can blend well.

SERVING
4) Serve or use as preferred.