»

Recipes

»

American

»

Hawaiian

»

Hawaiian Spareribs
Hawaiian Spareribs Recipe
hawaiian Spareribs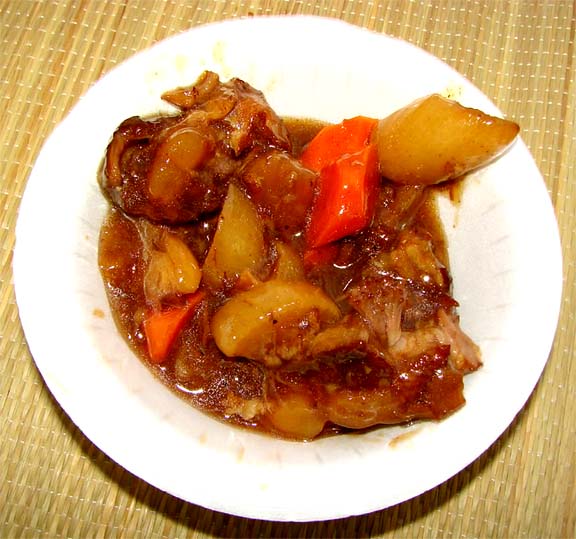 Ingredients
Eggs

2

All purpose flour

1⁄4 Cup (4 tbs)

Salt

1 Teaspoon

Pepper

1⁄8 Teaspoon

Spareribs

2 Pound

, cut in serving pieces

Lard/Drippings

3 Tablespoon

Pineapple chunks

1 Can (10 oz)

, undrained

Green peppers

3

Boiling water

1 Cup (16 tbs)

Cornstarch

5 Tablespoon

Soy sauce

5 Tablespoon

Sugar

1⁄2 Cup (8 tbs)

Vinegar

1⁄2 Cup (8 tbs)

Pineapple juice

1⁄2 Cup (8 tbs)

(Or As Required)
Nutrition Facts
Serving size: Complete recipe
Calories 4348 Calories from Fat 2434
% Daily Value*
Total Fat 271 g416.4%
Saturated Fat 101.9 g509.4%
Trans Fat 0 g
Cholesterol 1169.7 mg
Sodium 7036.7 mg293.2%
Total Carbohydrates 290 g96.6%
Dietary Fiber 10 g40.2%
Sugars 179.4 g
Protein 177 g354.1%
Vitamin A 43.2% Vitamin C 748.3%
Calcium 47.1% Iron 83.7%
*Based on a 2000 Calorie diet
Directions
Beat together eggs, flour, salt and pepper; thoroughly coat spareribs with egg flour batter.
Brown ribs on both sides in lard or drippings; cover and cook slowly 45 minutes.
Pour off drippings.
Drain pineapple; reserve juice.
Remove stems and seeds from green peppers; cut peppers into 1 inch squares.
Cover peppers with boiling water; cook 10 minutes.
Drain.
Add green peppers and pineapple chunks to meat; cover and simmer 10 minutes.
Mix together cornstarch, soy sauce, sugar, vinegar and pineapple juice; cook, stirring constantly, until thick and clear, about 2 minutes.
Pour over meat mixture; simmer 5 minutes.