»

Recipes

»

Omelette

»

Harvest Omelette
Harvest Omelette Recipe
Harvest Omelet is exotic food from america made from eggs cheese vegetable butter.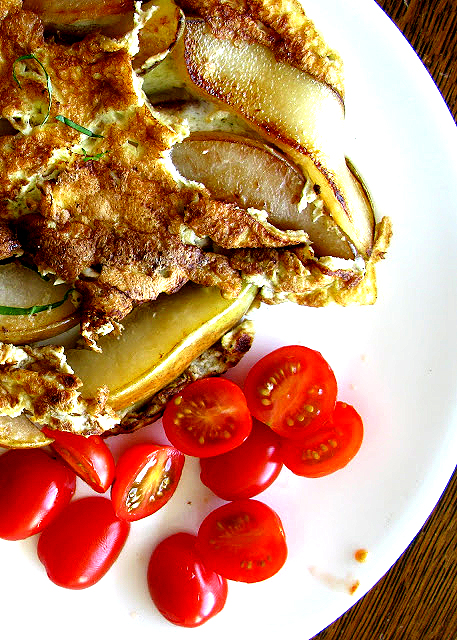 Ingredients
Diced pears

1⁄4 Cup (4 tbs)

(fresh)

Shredded swiss cheese

1 Tablespoon

Diced green onions

1 Teaspoon

(with tops)

Nutmeg

1⁄4 Teaspoon

Eggs

2

Water

2 Tablespoon

Butter/Margarine

1 Teaspoon
Nutrition Facts
Serving size: Complete recipe
Calories 264 Calories from Fat 166
% Daily Value*
Total Fat 19 g28.7%
Saturated Fat 8.7 g43.3%
Trans Fat 0 g
Cholesterol 447.5 mg
Sodium 170.1 mg7.1%
Total Carbohydrates 8 g2.6%
Dietary Fiber 1.5 g6.1%
Sugars 4.9 g
Protein 17 g33.9%
Vitamin A 18.9% Vitamin C 6.3%
Calcium 18.1% Iron 11.4%
*Based on a 2000 Calorie diet
Directions
In small bowl, beat together eggs and water until blended. In 7-to 10-inch omelet pan over medium heat, heat butter until just hot enough to sizzle a drop of water.

Pour in egg mixture. Mixture should set immediately at edges. With an inverted pancake turner, carefully push cooked portions at edges toward center so uncooked portions can reach hot pan sur- face, tilting pan and moving cooked portions as necessary. When top is thickened and no visible liquid egg remains, fill with pear mixture. With pancake turner, fold omelet in half. Invert or slide onto plate.