»

Recipes

»

Beet

»

Harvard Beets
Harvard Beets Recipe
Harvard Beets is something I prepare quiet often at home. The dish is simply delicious and my relatives have already become prey to it. You will love this Harvard Beets recipe.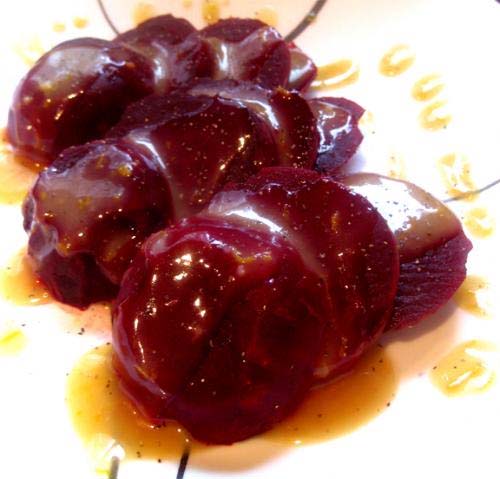 Ingredients
Cornstarch

1 1⁄2 Teaspoon

Sugar

2 Teaspoon

Salt

1⁄4 Teaspoon

Pepper

1 Dash

Beet juice

1⁄3 Cup (5.33 tbs)

(Plus Water To Make 1/3 Cup)

Vinegar

1 1⁄2 Teaspoon

Canned diced beets

8 Ounce

, drained (1 Can Or 1 Cup)
Nutrition Facts
Serving size
Calories 84 Calories from Fat 1
% Daily Value*
Total Fat 0.09 g0.13%
Saturated Fat 0.01 g0.06%
Trans Fat 0 g
Cholesterol 0 mg
Sodium 285.2 mg11.9%
Total Carbohydrates 20 g6.7%
Dietary Fiber 1.4 g5.6%
Sugars 14.9 g
Protein 1 g2.5%
Vitamin A 0.5% Vitamin C 6.7%
Calcium 1.5% Iron 6.2%
*Based on a 2000 Calorie diet
Directions
Mix cornstarch, sugar, salt, and pepper.
Combine beet liquid and vinegar; slowly blend into cornstarch mixture.
Place over medium heat and bring to boil; boil 1 min.
Add beets and heat through.