»

Recipes

»

Chili

»

Harisa - North African Chile Paste
Harisa - North African Chile Paste Recipe
Harīsa is the most important condiment used in Tunisian cooking, and, in fact, you need to make this recipe and keep it in the refrigerator before attempting any other Tunisian recipe. It's hard to believe that so essential a condiment could evolve only after the introduction of the New World capsicum. Harīsa comes from the Arabic word for "to break into pieces," which is done by pounding hot chiles in a mortar, although today a food processor can be used. (By the way, harīsa is spelled with one "s," not two). This famous hot chile paste is also found in the cooking of Algeria, Libya, and even in western Sicily where cùscusu is made. In Tunisia it would be prepared fresh in a spice shop. The simplest recipe is merely a paste of red chile and salt that is covered in olive oil and stored.
Harīsa is sold in tubes by both Tunisian and French firms. The Tunisian one is better, but neither can compare to your own freshly made from this recipe.
Be very careful when handling hot chiles, making sure that you do not put your fingers near your eyes, nose, or mouth, or you will live to regret it. Wash your hands well with soap and water after handling chiles. After you make your first harīsa, with all the modern conveniences, I hope you can appreciate what exacting women's work this was, making it in the traditional mortar.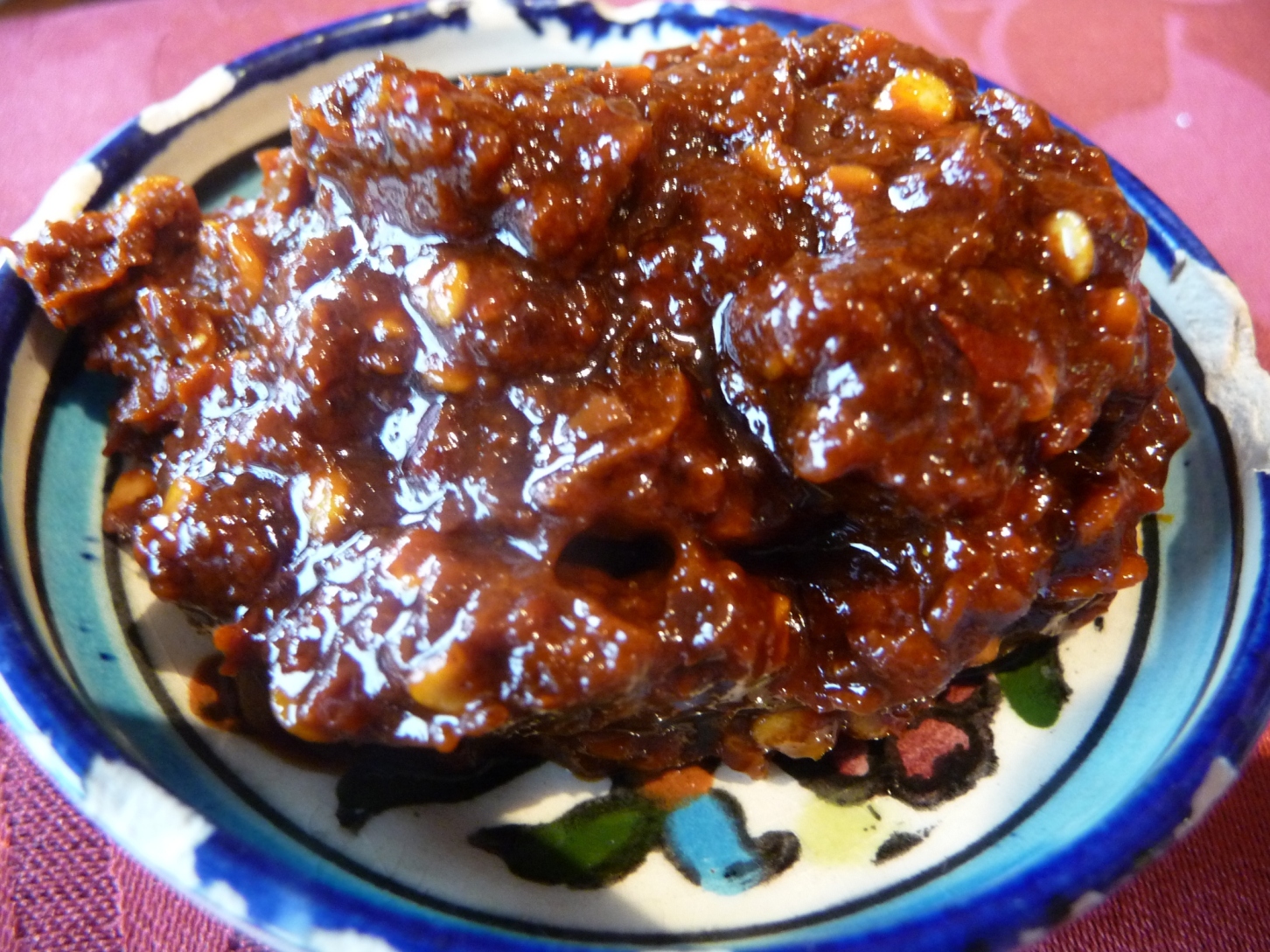 Ingredients
Mildly hot dried guajillo chiles

2 Ounce

Mild dried anaheim chiles

2 Ounce

Garlic

5 Clove (25 gm)

, peeled

Water

2 Tablespoon

Extra virgin olive oil

2 Tablespoon

Freshly ground caraway seeds

1⁄2 Teaspoon

Freshly ground coriander seeds

1⁄4 Teaspoon

Salt

1 1⁄2 Teaspoon

Extra virgin olive oil

1 Tablespoon

(For Topping Off)
Directions
1. Soak the chiles in tepid water to cover until softened, 45 minutes to 1 hour . Drain and remove the stems and seeds. Place in a blender or food processor with the garlic, water, and olive oil and process until smooth, stopping occasionally to scrape down the sides.
2. Transfer the mixture to a small bowl and stir in the caraway, coriander, and salt. Store in a jar and top off, covering the surface of the paste with a layer of olive oil. Whenever the paste is used you must always top off with olive oil making sure no paste is exposed to air, otherwise it will spoil.
Variation: To make a hot
harīsa
, use 4 ounces dried guajillo chiles and ½ ounce dried de Arbol chiles.
Note: To make
āla al-harīsa
(
harīsa
sauce) used as an accompaniment to grilled meats, stir together 2 teaspoons
harīsa
, 3 tablespoons olive oil, 2 tablespoons water and 1 tablespoon finely chopped fresh parsley leaves.
Makes 1 cup
Image and Recipe © Clifford A. Wright
This recipe is excerpted from the book
Some Like It Hot
by
Clifford A. Wright
.For more information or to purchase the book, please visit
CliffordAWright.Com