»

Recipes

»

Prawn

»

Hara Bhara Prawns
Hara Bhara Prawns Recipe
Hara (green) Bhara (full/complete) Prawns literally means shrimp/prawn cooked and simmered in thick green gravy of pureed mint and cilantro and spices. Comments/Suggestions/Feedback on this Hara Bhara Prawns Recipe welcome!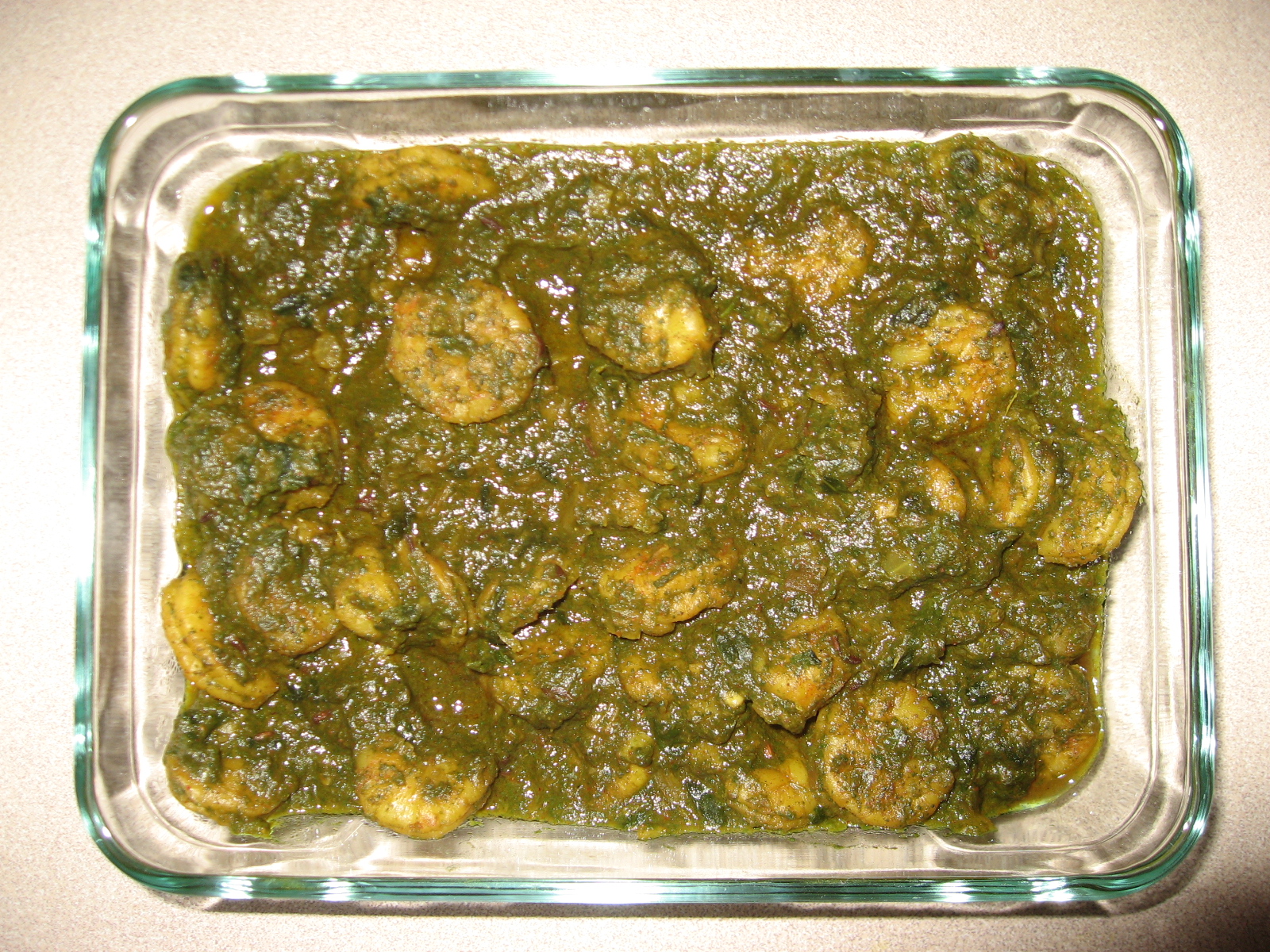 Ingredients
Shrimp

2 Cup (32 tbs)

(De Tailed, Shell Removed)

Mint/Pudina

1⁄2 Bunch (50 gm)

Cilantro/Coriander/dhaniya

1 Bunch (100 gm)

Cloves

5

Cinnamon sticks

3 Medium

Bay leaf

1 Large

Ginger garlic paste

1 Teaspoon

Coriander powder

1⁄4

Garam masala powder

1⁄4

Turmeric powder

1⁄4

Chili powder

To Taste

Lemon juice

5 Tablespoon
Directions
Marinade shrimp in ginger garlic paste, turmeric powder, salt, chilly powder and juice of lemon for at least 30 minutes.

Grind and puree mint and cilantro into a thick smooth paste.

Heat 2 tbs oil in a wok. Add cloves, cinnamon sticks and bay leaf. Saute for a 30 seconds.

Add ground puree and mix well. If ground puree is too thick, add a little water. Add coriander powder and garam masala powder. Cover and cook for 3-5 minutes.

Add marinaded shrimp, cover and continue cooking until shrimp curls and is thoroughly cooked (approx 7-10 minutes)

Serve Hot with Steamed Rice or any Indian Bread.

shruti gari says :
i love this prawn! my husband and i make it every day for ourselves. My mother in-law yells at me if i don't make this! Thank you for sharing it with my husband, mother inlaw,and I.
Posted on:
19 August 2009 - 7:39pm

Hi Shruti. I am glad you and your family like this dish so much. I also like the Prawn/Shrimp Masala dish that you might want to try and impress your family with ;) Here is the link. http://www.ifood.tv/recipe/prawn_masala_0
Posted on:
31 August 2009 - 5:18pm