»

Recipes

»

Dumpling

»

Hampshire Bacon Dumplings
Hampshire Bacon Dumplings Recipe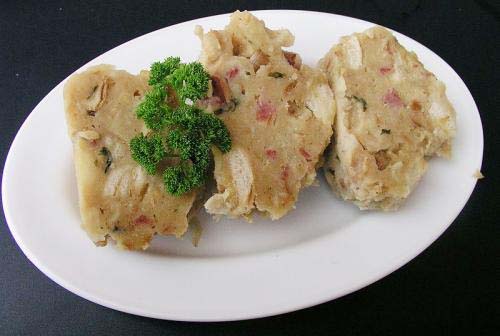 Summary
Preparation Time
30 Min
Cooking Time
1 Hr 30 Min
Ready In
2 Hr 0 Min
Difficulty Level
Medium
Health Index
Average
Servings
2
Ingredients
Self raising flour

6 Ounce

Raisin

6 Ounce

Salt

1⁄2 Teaspoon (Leveled)

Pepper

1 Pinch

Shredded beef suet

4 Ounce

White breadcrumbs

2 Ounce

Onion

1 Small

, finely chopped

Mixed herbs

1⁄4 Teaspoon (Leveled)

Chopped parsley

1 Tablespoon (Leveled)

Bacon rashers

4 Ounce

, trimmed and chopped

Water

1⁄4 Pint

(As Required)
Nutrition Facts
Serving size
Calories 1246 Calories from Fat 541
% Daily Value*
Total Fat 60 g92.7%
Saturated Fat 29.8 g148.9%
Trans Fat 0 g
Cholesterol 0 mg
Sodium 1582.2 mg65.9%
Total Carbohydrates 157 g52.4%
Dietary Fiber 7.4 g29.4%
Sugars 55.3 g
Protein 24 g48.8%
Vitamin A 8.6% Vitamin C 22%
Calcium 39.4% Iron 39.3%
*Based on a 2000 Calorie diet
Directions
MAKING
1) In a basin sift flour and salt together.
2) Add remaining ingredients and mix water to make firm dough.
3) Lightly flour a surface and turn the mixture on it. With hand shape into a flat roll.
4) Grease a double-thickness greaseproof paper and wrap with it in pleat. Tie like a cracker and rap loosely with foil
5) Steam briskly for 1 1/2 hours.
6) Take off paper and slice.

SERVING
7) Serve with grilled tomatoes and gravy.