»

Recipes

»

Pie
Hamburger Pie Recipe
Hamburger Pie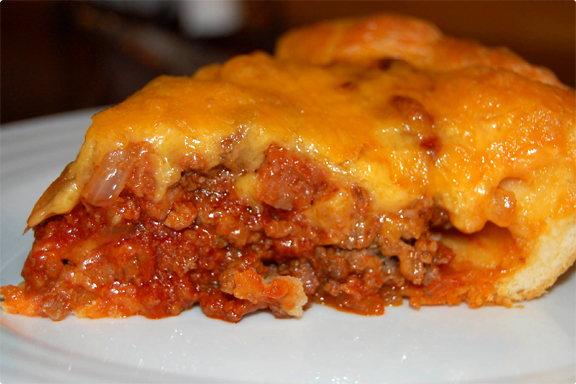 Ingredients
9 inch double crust pie pastry

1

Ground beef

1 Pound

Poultry seasoning

1⁄2 Teaspoon

Salt

2 Teaspoon

Pepper

1⁄4 Teaspoon

Worcestershire sauce

1 Tablespoon

Catsup

3 Tablespoon

Prepared mustard

1 Teaspoon

Potatoes

2 Medium

, sliced

Onions

2 Medium

, chopped

Butter

1⁄4 Cup (4 tbs)

Brown gravy with mushrooms

1 Can (10 oz)
Nutrition Facts
Serving size: Complete recipe
Calories 2941 Calories from Fat 1803
% Daily Value*
Total Fat 201 g309.1%
Saturated Fat 84.7 g423.6%
Trans Fat 0 g
Cholesterol 441 mg
Sodium 6312.2 mg263%
Total Carbohydrates 212 g70.5%
Dietary Fiber 21.1 g84.4%
Sugars 73.7 g
Protein 96 g191.3%
Vitamin A 38.4% Vitamin C 179.6%
Calcium 20.4% Iron 53.3%
*Based on a 2000 Calorie diet
Directions
Fit half the pastry into pie pan.
Combine beef, poultry seasoning, salt, pepper and Worcestershire sauce with catsup and mustard.
Spoon into pastry-lined pan.
Fry potatoes and onions in butter until potatoes are soft and onions lightly browned; stir gravy into potato mixture.
Pour over beef mixture.
Fit remaining pastry over pie.
Seal edges; cut steam vents.
Bake at 375 degrees for 1 hour and 15 minutes.