»

Recipes

»

Quiche

»

Hamburger And Cheese Quiche
Hamburger And Cheese Quiche Recipe
Hamburger And Cheese Quiche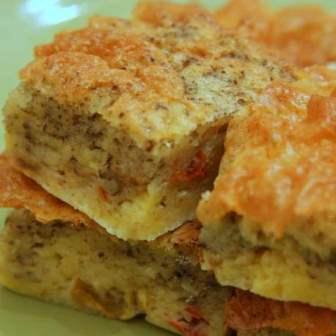 Ingredients
14 inch pie shell

1

Lean hamburger

1⁄2 Pound

Onion

1⁄4 Cup (4 tbs)

, chopped

Mayonnaise

1⁄2 Cup (8 tbs)

Milk

1⁄2 Cup (8 tbs)

Eggs

2

Cornstarch

1 Tablespoon

Salt

1⁄4 Teaspoon

Cheddar cheese

1 1⁄2 Cup (24 tbs)

, shredded

Pepper/1/2 teaspoon seasoned salt

1⁄8 Teaspoon
Nutrition Facts
Serving size
Calories 1143 Calories from Fat 839
% Daily Value*
Total Fat 94 g144.8%
Saturated Fat 29.5 g147.4%
Trans Fat 0 g
Cholesterol 370.6 mg123.5%
Sodium 1349.8 mg56.2%
Total Carbohydrates 13 g4.5%
Dietary Fiber 0.42 g1.7%
Sugars 4.8 g
Protein 58 g116.9%
Vitamin A 27.8% Vitamin C 2.5%
Calcium 87.9% Iron 9.7%
*Based on a 2000 Calorie diet
Directions
GETTING READY
1. Preheat oven to 350° F.
2. In a mixing bowl, blend mayonnaise, milk, eggs, cornstarch and seasoning; keep aside.

MAKING
3. In a skillet, add meat and onion together and sauté until the meat is browned.
4. Drain off the excess fat.
5. In a large mixing bowl, place the meat, add the mayonnaise mixture and cheese; mix well

FINALISING
6. Into the pie shell, pour the mixture and bake in oven for 35-40 minutes.

SERVING
7. Serve hot or warm with salad.