»

Recipes

»

Quiche
Ham Quiche Recipe
A quiche with a twist. The ham quiche recipe is a delicious mixture of ham, cheese and egg in a cornmeal crust. Just put it in your microwave and lo and behold! here's a complete meal that is waiting for you to dig in. Enjoy!!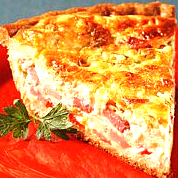 Ingredients
For cornmeal quiche shells

Gold medal all purpose flour

1⁄3 Cup (5.33 tbs)

Cornmeal

1 1⁄2 Tablespoon

Shortening

1 1⁄2 Tablespoon

Water

6 Teaspoon

For filling

Shredded mozzarella cheese

1⁄3 Cup (5.33 tbs)

Green onion

1 Tablespoon

, finely chopped

Eggs

2

Milk

1⁄3 Cup (5.33 tbs)

Salt

1⁄4 Teaspoon

Red pepper sauce

6 Drop

Chopped cooked ham

2 Tablespoon
Nutrition Facts
Serving size
Calories 221 Calories from Fat 101
% Daily Value*
Total Fat 11 g17.6%
Saturated Fat 4 g19.8%
Trans Fat 0.7 g
Cholesterol 117.6 mg
Sodium 298 mg12.4%
Total Carbohydrates 21 g6.9%
Dietary Fiber 1.2 g4.8%
Sugars 2.1 g
Protein 10 g19.1%
Vitamin A 7.1% Vitamin C 2.9%
Calcium 8.4% Iron 8.3%
*Based on a 2000 Calorie diet
Directions
1. In small bowl, mix flour, cornmeal and 1/8 teaspoon salt. Cut in shortening, using pastry blender (or pulling 2 table knives through ingredients in opposite directions), until particles are size of small peas. Sprinkle with cold water, tossing with fork until all flour is moistened and pastry cleans side of bowl.

2. Gather pastry into a ball. Divide in half. Press firmly against bottom and side of two 10-ounce microwavable quiche dishes or custard cups. Prick bottoms and sides thoroughly with fork. Sprinkle cheese and onion in shells.

3. Place dishes on upside-down microwavable saucers in microwave oven. Microwave uncovered on High 2 minutes; rotate dishes 1/2 turn. Prick any bubbles with fork. Microwave 1 minute 30 seconds to 3 minutes longer or until pastry appears dry and flaky.

4. In 2-cup microwavable measuring cup, beat eggs, milk, 1/4 teaspoon salt and the pepper sauce with fork. Stir in ham. Microwave uncovered on Medium-High (70%) 3 to 4 minutes, stirring after 1 minute, until warm. Stir; pour into shells. Place filled shells on upside-down microwavable saucers in microwave oven.

5. Microwave uncovered on Medium-High 4 to 5 minutes, rotating dishes 1/2 turn after 2 minutes, until center is almost set. Cover loosely and let stand on flat, heatproof surface 3 minutes.