»

Recipes

»

Ham

»

Ham Barbecue
Ham Barbecue Recipe
Ham barbecue is a hot and spicy barbecue that can be cooked in a skillet with gravy. Flavored with pineapple bits along with barbecue sauce, the ham barbecue has a hawaiian taste to it. the ham barbecue is best served over hot cooked rice.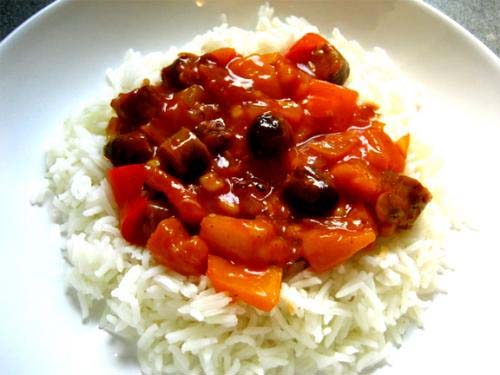 Ingredients
Cubed cooked ham

1 Cup (16 tbs)

Salad oil

1 Teaspoon

Canned pineapple tidbits

8 3⁄4 Ounce

Bottled barbecue sauce

1⁄4 Cup (4 tbs)

Cornstarch

1 1⁄2 Teaspoon

Green pepper

1⁄2 Medium

, cut into strips

Hot cooked rice

1 Cup (16 tbs)
Nutrition Facts
Serving size
Calories 437 Calories from Fat 76
% Daily Value*
Total Fat 9 g13.1%
Saturated Fat 2.1 g10.6%
Trans Fat 0 g
Cholesterol 0 mg
Sodium 103.3 mg4.3%
Total Carbohydrates 62 g20.5%
Dietary Fiber 2.8 g11.4%
Sugars 25.4 g
Protein 29 g57%
Vitamin A 7% Vitamin C 53.8%
Calcium 0.7% Iron 8.9%
*Based on a 2000 Calorie diet
Directions
Brown meat lightly in hot oil in skillet.
Drain pineapple, reserving syrup.
Stir syrup and barbecue sauce into browned meat.
Cover; simmer 10 minutes.
Blend cornstarch with 1/3 cup cold water; stir into meat.
Cook and stir till thickened and bubbly.
Add the pineapple and the green pepper.
Heat through.
Serve over rice.