»

Recipes

»

Halibut
Halibut Au Gratin Recipe
Halibut Au Gratin has a superb taste. The halibut and mushrooms give the Halibut Au Gratin a rousing taste. Halibut Au Gratin is inspired by restaurants across the world. Must catch it.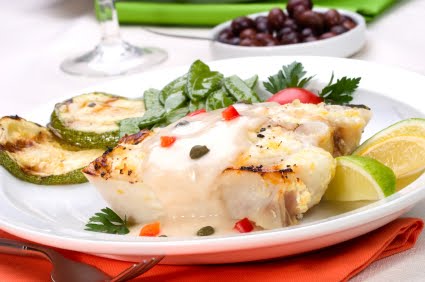 Ingredients
4 halibut steaks

Butter

1 Ounce

Onion

1 Small

Mushrooms

1/4 Pound

Egg

1

2 tabs. toasted breadcrumbs

3 tabs. single cream

Lemon juice

1 Teaspoon

Salt

To Taste

Pepper

To Taste
Directions
Put finely chopped onion and mushrooms into a fireproof dish and arrange steaks on this bed, first coating them with egg and breadcrumbs.
Sprinkle with lemon juice and seasoning.
Add the thin cream, dot with butter, and bake in a slow oven for 45-50 minutes.
Watercress makes a nice garnish for this dish.