»

Recipes

»

Cookie

»

Half Cup Cookies
Half Cup Cookies Recipe
These Half Cup Cookies are so very tasty. Try these crunchy bakes for dessert or as a snack and let me know if you like it ! Your suggestions for these Half Cup Cookies are welcome !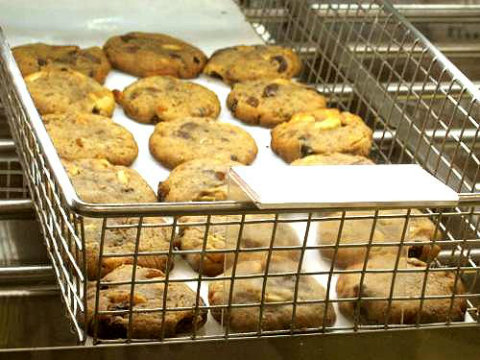 Ingredients
Whole wheat flour

2 Cup (32 tbs)

Baking powder

1 Teaspoon

Salt

3⁄4 Teaspoon

Ground cinnamon

1 Teaspoon

Eggs

2

Milk

1⁄4 Cup (4 tbs)

Vanilla

1⁄2 Teaspoon

Peanut butter

1⁄2 Cup (8 tbs)

Butter/Margarine

1⁄4 Cup (4 tbs)

, softened

Semisweet chocolate/Carob baking chips

1⁄2 Cup (8 tbs)

Chopped cashews/Toasted almonds/ walnuts

1⁄2 Cup (8 tbs)
Nutrition Facts
Serving size: Complete recipe
Calories 2960 Calories from Fat 1506
% Daily Value*
Total Fat 176 g271.4%
Saturated Fat 65.5 g327.6%
Trans Fat 0 g
Cholesterol 549.6 mg
Sodium 2660.7 mg110.9%
Total Carbohydrates 301 g100.2%
Dietary Fiber 48.6 g194.3%
Sugars 62.8 g
Protein 93 g185.8%
Vitamin A 39.8% Vitamin C 0.79%
Calcium 75.6% Iron 123.1%
*Based on a 2000 Calorie diet
Directions
Combine whole wheat flour, baking powder, salt, and cinnamon; set aside.
In a large bowl, place eggs, milk, and vanilla; beat with an electric mixer.
Beat in peanut butter, honey, brown sugar, and butter until creamy.
Stir in flour mixture until blended, then stir in chocolate chips, nuts, coconut, raisins, and granola until blended.
Drop batter, 1 heaping teaspoon at a time, about 1 inch apart on lightly greased baking sheets.
Bake in a 375° oven for about 10 minutes or until cookies are golden on the bottom.
Cool on rack.

undrgrndgirl says :
i love this recipe as an "example"...i replace half the flour with flax, hempseed or coconut flour, substitute crunchy sunflower butter or hemp butter for the peanut butter, dried cranberries or other dried fruit or 1/4 candied ginger for half the dried fruit...i amp up the cinnamon and sometimes add a hint of nutmeg ginger or anise...the "add in" possibilities are endless and it's an easy recipe to adapt to suit your tates...makes a great breakfast "cookie"...
Posted on:
12 September 2011 - 11:26pm