»

Recipes

»

Haitian Black Bean Soup
Haitian Black Bean Soup Recipe
Haitian Black Bean Soup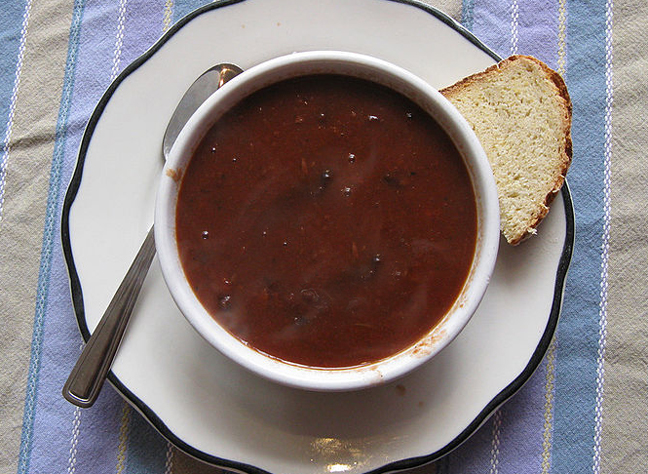 Ingredients
Black beans

2 Cup (16 tbs)

Water

Salt

1 Tablespoon

Olive oil

2 Tablespoon

Medium onions -2, chopped

Garlic

3 Clove (5gm)

Hot water

1 Cup (16 tbs)

Ham

8 Ounce

Chicken broth

1 Quart

Tomatoes -16-ounce can, chopped

White vinegar

2 Tablespoon

Ground cumin

1/2 Teaspoon

Ground pepper

1 To taste

Tabasco sauce generous dash
Directions
GETTING READY
1. Take a large Dutch oven, and add beans and cover it with water and stir in salt and soak overnight. Or Quickly soak the beans and drain out water.

MAKING
2. Boil the beans, by partially covering the oven over low heat.
3. Cook the beans for 3 hours for about 3 hours until the beans are soft, and add more boiling water if needed.
4. Drain the beans and keep it aside.
5. Take a Dutch oven and add oil, garlic, onions and water and boil.
6. When onions turn soft, and water gets evaporated, add beans and stir well. Slowly stir in remaining ingredients except bananas and boil.
7. Cook over low heat and stir the mixture frequently for 15 minutes until the beans get warmed.

SERVING
8. Serve the Haitian black bean soup after garnishing with banana slices and team it with rice.