»

Recipes

»

European

»

Gulyashus
Gulyashus Recipe
Gulyashus has a great taste. Gulyashus gets its taste from beef mixed with cream and onions. Gulyashus is inspired by many food chains around the world.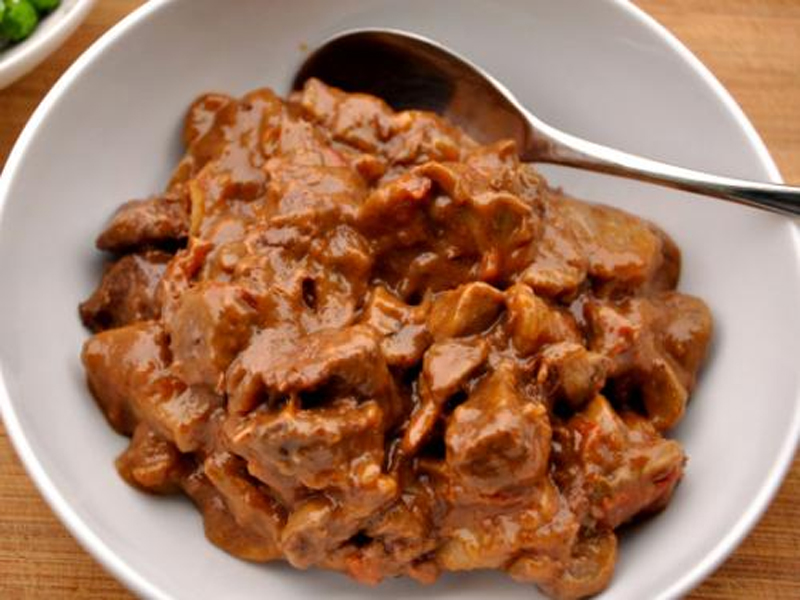 Ingredients
Cheddar cheese

8 Ounce

, grated

Onions

1 Pound

, sliced

Garlic

1 Clove (5 gm)

, crushed

Tomato paste

4 Tablespoon

Boneless lean beef

2 Pound

, cut into pieces

Paprika

1 Tablespoon

Caraway seed

1⁄4 Teaspoon

Salt

To Taste

Thick sour cream

4 Tablespoon
Nutrition Facts
Serving size: Complete recipe
Calories 2436 Calories from Fat 1149
% Daily Value*
Total Fat 130 g199.8%
Saturated Fat 71.3 g356.6%
Trans Fat 0 g
Cholesterol 709.4 mg
Sodium 3607.3 mg150.3%
Total Carbohydrates 69 g23.1%
Dietary Fiber 16.4 g65.4%
Sugars 31.4 g
Protein 260 g520.2%
Vitamin A 229.2% Vitamin C 99.6%
Calcium 187.1% Iron 45.6%
*Based on a 2000 Calorie diet
Directions
Heat lard in a heatproof casserole or skillet.
Add onion and garlic; cook about 5 minutes, stirring occasionally.
Add tomato paste and beef; stir until thoroughly mixed.
Sprinkle with paprika and add a small amount of water or broth.
Cover casserole tightly and cook over low heat until meat is tender; if necessary, add more liquid during cooking.
Add caraway seed and salt.
Blend in sour cream; season with paprika and salt to taste.