»

Recipes

»

Indian

»

Gujarati

»

Gujarati Kadhi
Gujarati Kadhi Recipe
This Gujrati Kadhi is a craze ! I love irresistibly seasoned curd and gram flour gravy with a bowl of hot rice ! Just try this Gujrati Kadhi and feel free to share your suggestions with me !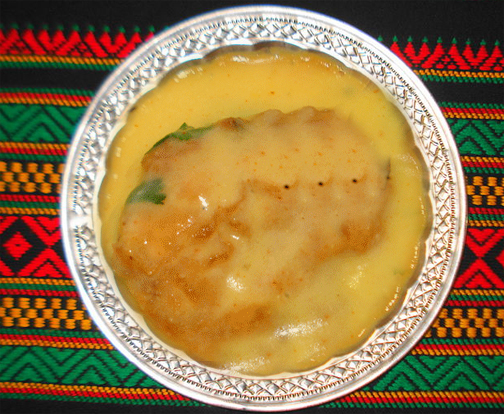 Ingredients
Bengal gram flour

2 Tablespoon

(Also Called Besan)

Sour yoghurt

2 Cup (32 tbs)

Water

4 Cup (64 tbs)

Grated ginger

2 Teaspoon

Green chillies

2

, finely slit or chopped

Sugar

2 Teaspoon

(Otherwise To Taste)

Mustard seeds

1 Teaspoon

Cumin seeds

1 Teaspoon

Asafoetida

1⁄2 Teaspoon

Turmeric powder

1⁄2 Teaspoon

Ghee/Clarified butter

2 Tablespoon

Red chili

1

, broken into pieces

Salt

To Taste

Finely chopped coriander leaves

1 Tablespoon
Nutrition Facts
Serving size: Complete recipe
Calories 786 Calories from Fat 440
% Daily Value*
Total Fat 50 g77.3%
Saturated Fat 28.9 g144.7%
Trans Fat 0 g
Cholesterol 142.8 mg
Sodium 654.8 mg27.3%
Total Carbohydrates 61 g20.5%
Dietary Fiber 6.2 g24.8%
Sugars 38.1 g
Protein 27 g53.7%
Vitamin A 37.9% Vitamin C 118.3%
Calcium 68.8% Iron 40.1%
*Based on a 2000 Calorie diet
Directions
Take a vessel and mix yoghurt, gram flour and water and without any lumps.
Add ginger, green chillies, curry leaves, sugar and salt.
Let the mixture simmer on gas for 5 minutes and bring to a boil while you cook.
Take a frying pan and heat up ghee or clarified butter for 2 minutes and add in mustard seeds and the cumin seeds.
Add asafoetida, red chilli and turmeric powder when you hear the mustard and cumin seeds crackle.
Saute all these spices on low heat for a few seconds.
Now add the gram flour gravy to the tempering spices in the pan.
Keep stirring as the gas simmers at low heat for 4 minutes.