»

Recipes

»

Mexican

»

Guacamole (Mexican Dip)
Guacamole (Mexican Dip) Recipe
The guacamole is one of the best and healthiest dips. Prepared with mashed ripe avocados, the guacamole is flavored with chili powder, garlic, tabasco sauce and pepper. Combined together with mayo and minced onions, the guacamole can be served with cracker or tortilla and pita chips.
Guacamole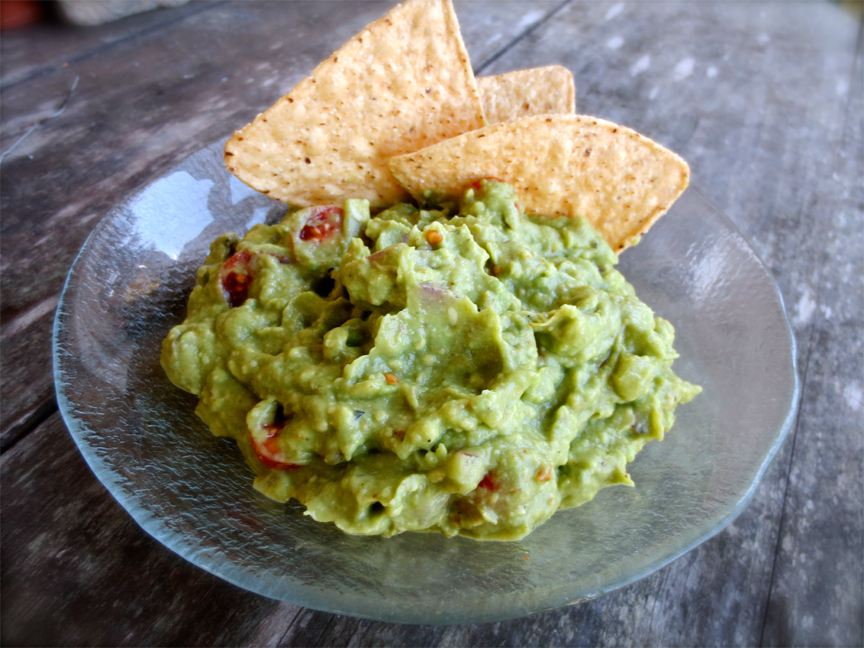 Ingredients
Avocado pear

1⁄2

(Ripe)

Lemon juice

2 Teaspoon

Garlic

1 Clove (5 gm)

, crushed

Chili powder

1 Pinch

Tabasco

1 Dash

Onion

1 Teaspoon

, finley minced

Mayonnaise

1 Tablespoon

Salt

To Taste

Freshly ground black pepper

To Taste
Nutrition Facts
Serving size: Complete recipe
Calories 293 Calories from Fat 238
% Daily Value*
Total Fat 28 g42.3%
Saturated Fat 3.4 g16.8%
Trans Fat 0 g
Cholesterol 10.7 mg
Sodium 474.9 mg19.8%
Total Carbohydrates 13 g4.3%
Dietary Fiber 7.8 g31.3%
Sugars 1.3 g
Protein 3 g5.5%
Vitamin A 7.2% Vitamin C 29.6%
Calcium 3% Iron 6%
*Based on a 2000 Calorie diet
Directions
Scoop out all the flesh from the avocado and mash it to a pulp with a fork.
Add the lemon juice, garlic, chilli powder, tabasco and raw onion.
Stir in the mayonnaise and season with salt and pepper.
Blend everything together thoroughly.
Cover and chill.