»

Recipes

»

Mexican

»

Tortilla

»

Guacamole With Tortillas
Guacamole with Tortillas Recipe
Guacamole with Tortillas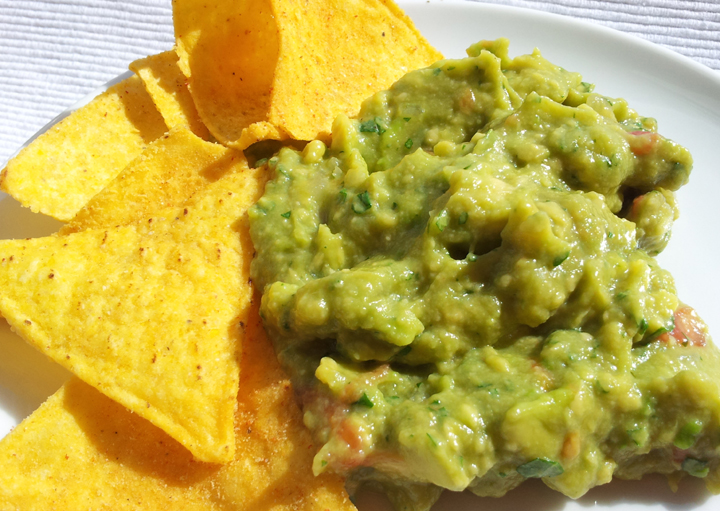 Ingredients
Corn tortillas

6

For chili butter

Butter

3 Ounce

(90 Grams)

Finely grated lemon rind

2 Teaspoon

Sweet chili sauce

2 Teaspoon

Ground cumin

1 Teaspoon

For guacamole

Avocado

1

, halved, stoned and peeled

Tomato

1

, peeled and finely chopped

Lemon juice

2 Tablespoon

Finely chopped fresh coriander/Parsley

1 Tablespoon
Nutrition Facts
Serving size: Complete recipe
Calories 1526 Calories from Fat 925
% Daily Value*
Total Fat 106 g163%
Saturated Fat 53.3 g266.3%
Trans Fat 0 g
Cholesterol 182.9 mg
Sodium 486.2 mg20.3%
Total Carbohydrates 140 g46.5%
Dietary Fiber 22.3 g89.2%
Sugars 9.3 g
Protein 17 g33.4%
Vitamin A 89.7% Vitamin C 112.6%
Calcium 31% Iron 45.4%
*Based on a 2000 Calorie diet
Directions
1. To make chili butter, place butter, lemon rind, chili sauce and cumin in a bowl and mix to combine.
2. To make guacamole, place avocado in a bowl and mash with a fork. Stir in tomato, lemon juice and coriander or parsley.
3. Place tortillas in a single layer on a baking tray and heat on barbecue for 3-5 minutes or until warm.
4. To serve, place chili butter, guacamole and tortillas on a platter so that each person can spread a tortilla with chili butter, top with guacamole, then roll up and eat.