»

Recipes
Guacamole Recipe
Guacamole is a traditional Mexican dip, which is really popular.The main ingredient in Guacamole is avocados. Try this easy Guacamole recipe at home and have your guests asking for more.
Guacamole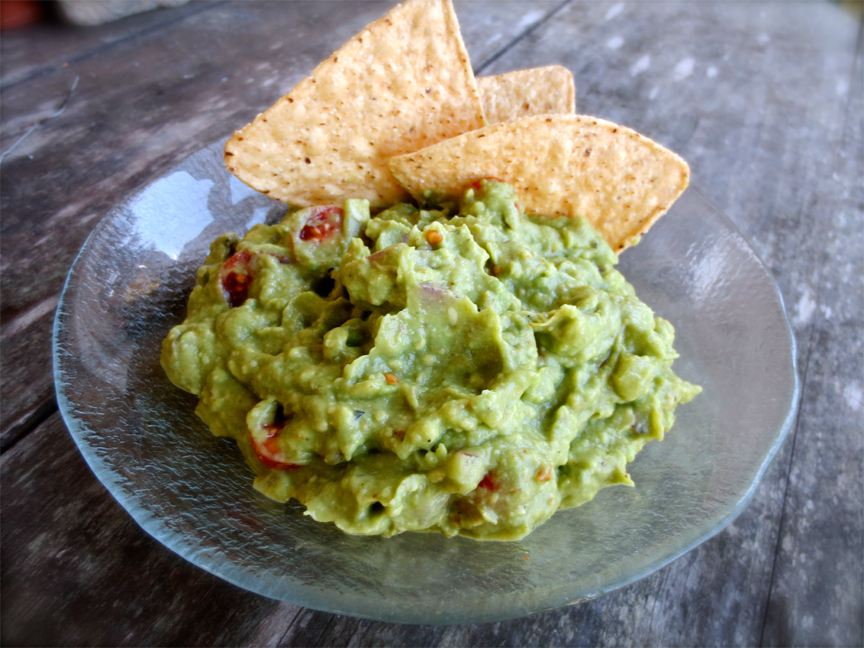 Ingredients
Ripe avocados

2

Lime

1

, juiced

Extra virgin olive oil

1 1⁄2 Tablespoon

Cayenne pepper/Chili powder

To Taste

Scallion

1 Large

, finely chopped

Ripe tomato

1 Large

Green chili pepper

1

Coriander leaves

3 Tablespoon

, chopped

Salt

To Taste

Pepper

To Taste
Nutrition Facts
Serving size: Complete recipe
Calories 954 Calories from Fat 736
% Daily Value*
Total Fat 85 g131.4%
Saturated Fat 10.7 g53.6%
Trans Fat 0 g
Cholesterol 0 mg
Sodium 461.4 mg19.2%
Total Carbohydrates 51 g17.1%
Dietary Fiber 33.7 g135%
Sugars 9.7 g
Protein 12 g24.1%
Vitamin A 119.4% Vitamin C 192.5%
Calcium 13% Iron 24.2%
*Based on a 2000 Calorie diet
Directions
MAKING
1 Peel the avocados.
2 Remove the pit, and slice the flesh into a large mixing bowl.
3 Immediately add the lime juice, 1 1/2 tbsp olive oil and season to taste with salt, freshly ground pepper, and a pinch of cayenne pepper or chili powder.
4 Mix well, mincing with a fork to a fairly smooth, thick consistency.
5 Stir in the scallion.
6 Peel the tomato and remove the seeds.
7 Cut the flesh into small dices.
8 Remove the stalk and seeds from the fresh chili.
9 Chop very finely.
10 Combine the tomato, chili, and chopped coriander with the avocado.
11 Cover and refrigerate until chilled.

SERVING
12 Serve chilled, within 2 hours of being prepared.