»

Recipes

»

Salad

»

Grilled Veg Salad
Grilled Veg Salad Recipe
This healthy summertime Grilled Veg Salad is my personal favorite. A superb way to pump in those highly nutritious greens, this super-delicious grilled veg salad is indeed a mouth-watering treat!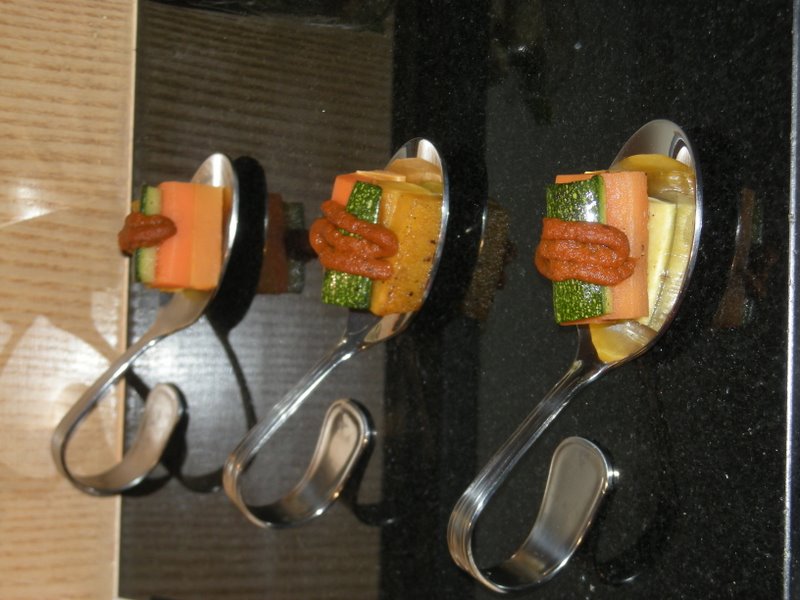 Summary
Preparation Time
10 Min
Cooking Time
10 Min
Ready In
20 Min
Difficulty Level
Very Easy
Ingredients
Eggplant

1 Medium

Red onion

1

Zucchini

2

Red peppers/Yellow peppers or both

1

Cheese

3⁄4 Cup (12 tbs)

Parsley

1 Tablespoon

, chopped

Garlic

1 Clove (5 gm)

, minced

Olive oil

1⁄2 Cup (8 tbs)

Red wine vinegar

3 1⁄4 Cup (52 tbs)

Oregano

1⁄2 Teaspoon

Chili powder

1⁄2 Teaspoon

Cumin seeds

1⁄2 Teaspoon

Dried mustard

1⁄2 Teaspoon

Cayenne

1 Teaspoon
Nutrition Facts
Serving size
Calories 307 Calories from Fat 218
% Daily Value*
Total Fat 25 g38%
Saturated Fat 6.4 g32.1%
Trans Fat 0 g
Cholesterol 19 mg
Sodium 138.8 mg5.8%
Total Carbohydrates 11 g3.7%
Dietary Fiber 4.3 g17.3%
Sugars 5.3 g
Protein 7 g13.7%
Vitamin A 34.1% Vitamin C 77.3%
Calcium 17.8% Iron 11.3%
*Based on a 2000 Calorie diet
Directions
Mix together all dressing ingredients for the salad and keep it aside.

Cut all the salad ingredients, expect cheese and parsley, in to ½ inch thick and slightly apply the dressing mix over them.
Cook on grill on medium flame, until the pieces look tender and slightly charred, remembering to turn occasionally. When fully cooked, remove the vegetables from the grill.
In a platter arrange the grilled vegetables and sprinkle with cheese. Brush with the remaining dressing mix and if desired, garnish with chopped parsley.
Grilled vegetable salad is best served warm as a starter or an accompaniment to the main meal.