»

Recipes

»

Fish

»

Easy Grilled Mahi Mahi
Easy Grilled Mahi Mahi Recipe
Do you plan to indulge in some grilling this summer? This grilled Mahi Mahi recipe is then just right for you. A simple and easy recipe that is quick to make and absolutely yummmmm.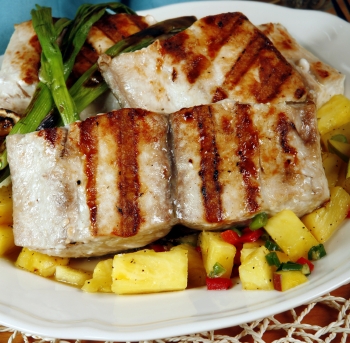 Ingredients
Mahi mahi pieces

2

Soy sauce

3 Tablespoon

Vinegar

2 Tablespoon

Olive oil

1 Teaspoon

Granulated sugar

1 Teaspoon

Finely chopped garlic/Minced garlic

1 Teaspoon

Salt

To Taste

Crushed black pepper

1⁄2 Teaspoon

Tabasco sauce

2 Dash

(adjust quantity as per taste)
Nutrition Facts
Serving size
Calories 173 Calories from Fat 35
% Daily Value*
Total Fat 4 g6%
Saturated Fat 0.36 g1.8%
Trans Fat 0 g
Cholesterol 0 mg
Sodium 1465.4 mg61.1%
Total Carbohydrates 6 g2%
Dietary Fiber 0.57 g2.3%
Sugars 2.9 g
Protein 23 g45.9%
Vitamin A 0.2% Vitamin C 1.8%
Calcium 1.5% Iron 4.8%
*Based on a 2000 Calorie diet
Directions
Combine all the ingredients for the marinade in a bowl. Add in the pieces of fish. Cover and refrigerate for about an hour. Spray your grill with some olive oil. Place the fish pieces. Grill for 3-5 minutes on each side basting with the remaining marinade. Serve hot with an accompaniment of your choice.

Dwayne Johnson says :
For me and my honey bunny.
Posted on:
4 July 2011 - 3:44pm

Lisa Fit says :
my husband grills in tin foil with wishbone italian dressing.
Posted on:
28 June 2011 - 1:22pm
So many Mahi Mahi recipes. You appear to be a great fan of mahi mahi.
Posted on:
10 September 2008 - 4:55am