»

Recipes

»

Lamb

»

Grilled Lamb Chop
Grilled Lamb Chop Recipe
My friends like this grilled lamb chop recipe. This recipe was given to me by one of my uncle. It is truly delicious. Whenever we organizing any party at home, this dish is surely included in party menu. It makes the party more enjoyable. If you also wish to make your party enjoyable, you must try this grilled lamb chop recipe.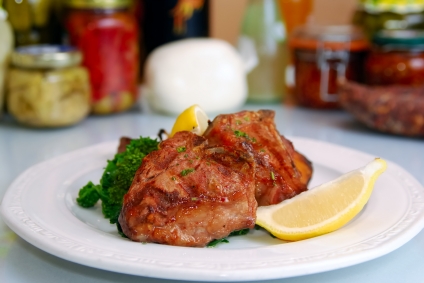 Ingredients
Lamb chops

8

(1" Thick)

Olive oil

1⁄2 Cup (8 tbs)

Lemon juice

6 Tablespoon

Stuffed olives

2⁄3 Cup (10.67 tbs)

, chopped

Garlic

2 Clove (10 gm)

, crushed

Salt

1 Teaspoon

Oregano

1⁄2 Teaspoon

Basil

1⁄2 Teaspoon

Pepper

1⁄4 Teaspoon
Nutrition Facts
Serving size
Calories 886 Calories from Fat 698
% Daily Value*
Total Fat 78 g119.3%
Saturated Fat 3 g14.9%
Trans Fat 0 g
Cholesterol 0 mg
Sodium 931.6 mg38.8%
Total Carbohydrates 2 g0.7%
Dietary Fiber 0.29 g1.1%
Sugars 0.4 g
Protein 43 g85.8%
Vitamin A 1.1% Vitamin C 12.8%
Calcium 1.2% Iron 1.8%
*Based on a 2000 Calorie diet
Directions
Stage1-Place chops in shallow dish.

Stage2- Combine oil, lemon, olives and seasonings.

Stage3-Pour over lamb chops.

Stage4-Marinate in refrigerator overnight, turning once.

Stage5-Grill until desired degree of doneness.

Stage6-Heat marinade in saucepan and pour over chops before serving.