»

Recipes

»

Trout
Grilled Trout Recipe
This fresh grilled trout is a great recipe for preparing outdoors or on fishing trips. Simply prepared with butter baste and seasoned to taste, the grilled trout offers a lovely and hearty fare in the great outdoors!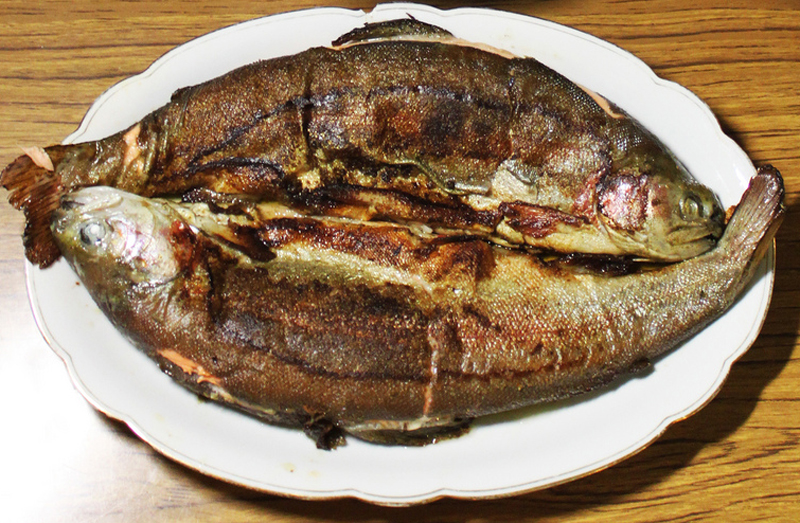 Ingredients
Trout

1 Large

(freshly caught)

Pepper

To Taste

Butter

2 Tablespoon

, melted

Salt

To Taste
Nutrition Facts
Serving size: Complete recipe
Calories 887 Calories from Fat 485
% Daily Value*
Total Fat 54 g83.6%
Saturated Fat 20.6 g103.1%
Trans Fat 0 g
Cholesterol 327.6 mg
Sodium 635.5 mg26.5%
Total Carbohydrates 0.12 g0.04%
Dietary Fiber 0.03 g0.13%
Sugars 0.1 g
Protein 94 g189%
Vitamin A 20.2% Vitamin C 3.8%
Calcium 20.3% Iron 37.8%
*Based on a 2000 Calorie diet
Directions
Cut the cleaned trout so that it will lie flat when opened and remove the backbone.
Place, skin side down, in a well oiled broiling pan.
Sprinkle with salt and pepper and brush generously with butter.
Broil 3 inches from tip of unit in a preheated 450° broiler 8 to 10 minutes or until fish flakes easily when tested with a fork.
Do not overcook.
To grill over hot coals: Use a hinged grill so the fish will stay in place.
Make certain grill is hot enough to mark or score the fish.
Before grilling, coat fish with flour, then brush thoroughly with oil.
During the grilling, brush several times with more oil.
For a 4 to 5 pound trout, allow 6 to 8 minutes per side.
Image Courtesy :
http://www.flickr.com/photos/scarygami/4391012662