»

Recipes

»

Salmon

»

Grilled Salmon With Tropical Salsa
Grilled Salmon with Tropical Salsa Recipe
DOLE Pineapple and DOLE Strawberries are a staple in my refrigerator, especially during the summer months. I wanted something lighter to put on my grilled salmon so I decided rather than using a cream sauce I would twist it up with a tropical salsa to put over top. The salsa has a sweetness and spiciness flavor that pairs beautifully with one another. Generously spoon the salsa over the salmon and you have a 5 star tasting dish.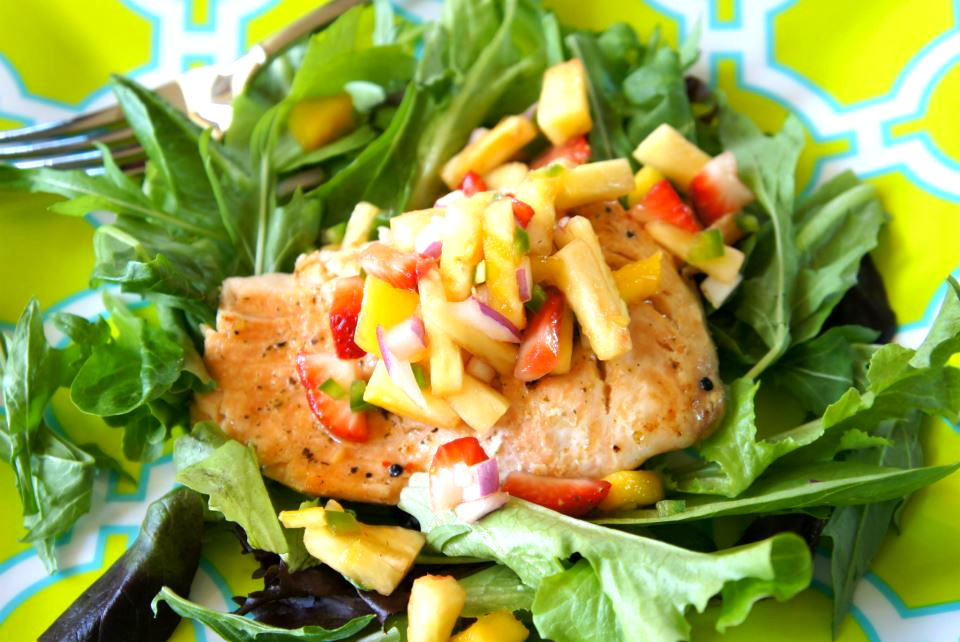 Ingredients
Chopped pineapple

1 Cup (16 tbs)

(Dole)

Chopped mango

1⁄2 Cup (8 tbs)

Chopped strawberries

1⁄4 Cup (4 tbs)

, hulled (Dole)

Chopped red onion

1⁄4 Cup (4 tbs)

Jalapeno

1

, seeded and chopped

Lemon

1

, juiced

Sea salt

1⁄2 Teaspoon

Salmon

1 Pound

Olive oil

3 Tablespoon

Lemon pepper seasoning

2 Tablespoon
Nutrition Facts
Serving size
Calories 277 Calories from Fat 136
% Daily Value*
Total Fat 15 g23.6%
Saturated Fat 2.2 g11.1%
Trans Fat 0 g
Cholesterol 59 mg
Sodium 1660.8 mg69.2%
Total Carbohydrates 13 g4.2%
Dietary Fiber 2.2 g8.7%
Sugars 8.5 g
Protein 23 g46.7%
Vitamin A 7% Vitamin C 75.4%
Calcium 3.5% Iron 7%
*Based on a 2000 Calorie diet
Directions
Preheat grill to a medium high heat.

Cut the top and bottom off of the DOLE pineapple, then cut the rest of the skin off.
Cut the core out of the pineapple by slicing the pineapple in half and then into half again. Remove the core by placing your knife on a diagonal and cutting.
Chop the pineapple into bite size pieces.

Cut a mango in a similar manner as the DOLE pineapple. When the skin is removed let you knife follow down mango along the pit to cut off the flesh. Chop the mango into bite size pieces.

Chop up 1/4 cup of DOLE strawberries and place in the bowl.

Chop 1/4 cup of red onion into small pieces and place into the bowl of fruit.

Cut a jalapeño in half and scrap out the seeds and ribs, cut into small pieces and place into the bowl.

Squeeze lemon juice over the fruit and vegetables. Then sprinkle salt in the bowl and toss to combine. This is best made before placing salmon on the grill to let it all macerate.

Drizzle olive oil over the salmon to evenly coat.

Sprinkle lemon pepper seasoning over both sides of salmon.

Place salmon on aluminum foil and place on the grill. (You can place the salmon directly on the grill if you'd like. I find it easier to place it on aluminum foil so it doesn't stick.) Cook on the first side for 6 minutes, flip and cook for an additional 4 minutes or until cooked through.

I like to plate my salmon with some DOLE spring greens, but it is optional. Place salmon on the plate and serve with a generous spoonful of the tropical salsa.