»

Recipes

»

Grilled Hamburger Steaks
Grilled Hamburger Steaks Recipe
Here's a juicy burger just begging to be picked up!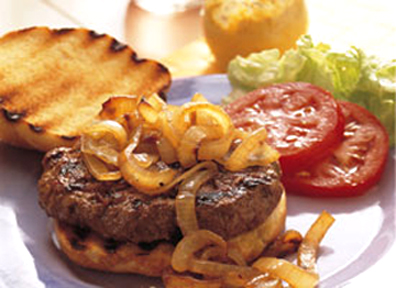 Ingredients
Lean ground beef patties

24 Ounce

Steak sauce

2 Tablespoon

Onion soup mix

1 Ounce

(1 envelope)

Bermuda onion/Other sweet onions

2 Large

, cut in half, then thinly sliced and separated (6 cups)

Bermuda onion/Then thinly sliced and separated

2 Large

, cut in half (other sweet onions)

Packed brown sugar

2 Tablespoon

Balsamic vinegar

1 Tablespoon
Nutrition Facts
Serving size
Calories 602 Calories from Fat 300
% Daily Value*
Total Fat 33 g51.3%
Saturated Fat 0.01 g0.03%
Trans Fat 0 g
Cholesterol 0 mg
Sodium 689.6 mg28.7%
Total Carbohydrates 43 g14.4%
Dietary Fiber 3.9 g15.4%
Sugars 28.8 g
Protein 32 g64.1%
Vitamin A 0.1% Vitamin C 30.6%
Calcium 9.3% Iron 6.4%
*Based on a 2000 Calorie diet
Directions
1. Heat coals or gas grill for direct heat. Spray two 18x12-inch sheets of heavy-duty foil with cooking spray.
2. Brush beef patties with steak sauce; sprinkle with half of the soup mix (dry). Place half of the onions on center of each foil piece. Sprinkle with remaining soup mix, the brown sugar and vinegar. Fold foil over onions so edges meet. Seal edges, making tight 1/2-inch fold; fold again. Allow space on sides for circulation and expansion.
3. Cover and grill packets and beef patties 4 to 6 inches from medium heat 10 to 15 minutes, turning patties and rotating packets 1/2 turn once or twice, until meat thermometer inserted in center of patties reads 160ºF. Place packets and patties on plates. Cut large X across top of each packet; fold back foil.