»

Recipes

»

Asian

»

Grilled Asian Eggplant With Ginger Sauce
Grilled Asian Eggplant with Ginger Sauce Recipe
Marcia Kiesel likes dressing up tender Asian eggplant with a vibrant fresh-ginger sauce that would also be wonderful with steamed fish or poached chicken.
Picture Credit: John Kernick
Recipe By: Marcia Kiesel
For more recipes, please visit Foodandwine.com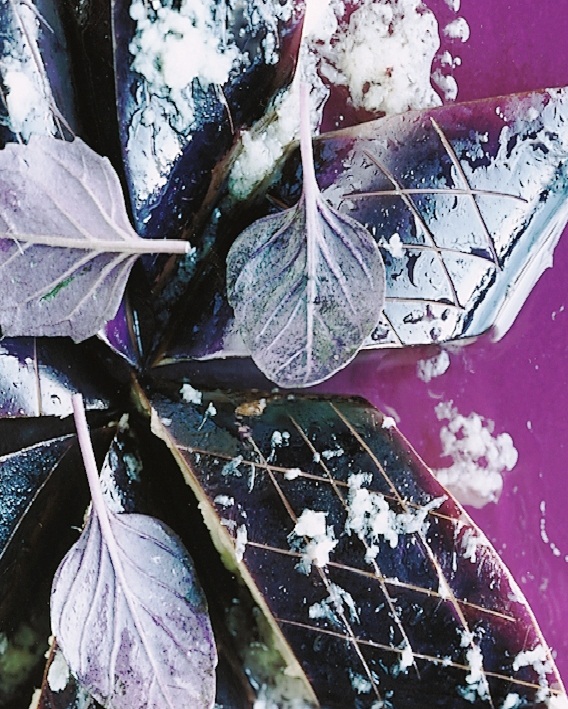 Ingredients
Water

1⁄4 Cup (4 tbs)

Sugar

4 Teaspoon

(1 Tablespoon Plus 1 Teaspoon)

Finely grated fresh ginger

6 Tablespoon

(1/4 Cup Plus 2 Tablespoons)

Unseasoned rice vinegar

1⁄4 Cup (4 tbs)

Asian sesame oil

1 Teaspoon

Vegetable oil

9 Tablespoon

(Use 1 Tablespoon For Brushing)

Salt

To Taste

Asian eggplant

2 1⁄2 Pound

, sliced lengthwise, then cut on the diagonal into 2 inch pieces and scored (8 Whole)
Nutrition Facts
Serving size
Calories 207 Calories from Fat 158
% Daily Value*
Total Fat 18 g27.4%
Saturated Fat 2.4 g11.8%
Trans Fat 0 g
Cholesterol 0 mg
Sodium 52.7 mg2.2%
Total Carbohydrates 13 g4.2%
Dietary Fiber 5 g20.2%
Sugars 6 g
Protein 2 g3.3%
Vitamin A 0.8% Vitamin C 6.1%
Calcium 1.5% Iron 2.3%
*Based on a 2000 Calorie diet
Directions
1. In a heatproof glass bowl, combine the water and sugar and microwave at high power for 10 seconds, until the sugar is dissolved. Add the grated ginger, vinegar, sesame oil and the 1/2 cup of vegetable oil and season with salt.
2. Set a large steamer basket in a large saucepan, add 1/2 inch of water and bring to a boil over moderately high heat. Steam the eggplant in batches, cut side down, until just tender, about 4 minutes.
3. Heat a grill pan. Lightly brush the eggplant all over with vegetable oil. Grill over high heat until grill marks appear, about 30 seconds per side, then transfer to a serving platter. Spoon the ginger sauce over the eggplant. Garnish with the purple basil (if using) and serve at once.

MAKE AHEAD: The ginger sauce can be made up to 6 hours ahead and kept at room temperature.

NOTES: One Serving 168 cal, 15 gm fat, 1.6 gm sat fat, 10 gm carb, 4.9 gm fiber.