»

Recipes

»

Wine

»

Grey Mullet In Wine
Grey Mullet in Wine Recipe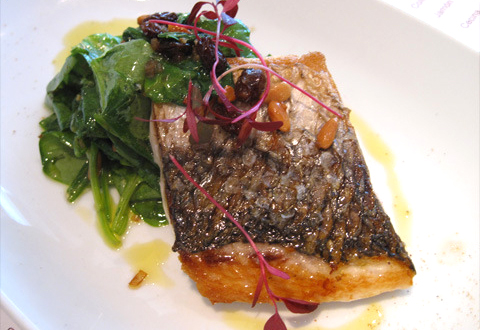 Ingredients
Mullet

3 Pound

Salt

1 To taste

Ground black pepper

1

Oil

2 Tablespoon

Butter

1 Ounce

Onion

1

, finely chopped

Dried oregano

1/2 Teaspoon

Fresh Rosemary Sprig - for garnish

Sage leaves

1

Bay leaves

1

Nutmeg

1/4 Teaspoon

, grated

Dry white wine

1/4 Pint

Fish Stock OR Water - 1/4 pint
Directions
MAKING
1) Rinse the mullet, scale and discard their heads and tails.
2) Pull out the innards. Wash again and slice into pieces of 2 to 3 inches thickness. Sprinkle the mullet with salt and pepper.
3) In a saucepan, heat oil and butter. Add in the chopped onions. Saute for about 3 minutes.
4) Add in the fish, oregano, rosemary, sage, bay leaves and nutmeg.
Cook on moderate heat while stirring for about 5 minutes.
5) Add in the wine, fish stock or water. Let the mixture come to a boil. Cover and cook on simmer for about 15 minutes till the fish becomes soft.

SERVING
6) Serve the Grey Mullet in Wine hot, with creamed potatoes on the side.