»

Recipes

»

Green Peas Masala ( Green Matar Curry Dry)
Green Peas Masala ( Green Matar curry dry) Recipe
Green peas masala is all-favourite dish, goes well with any south indian or north indian main dish. Enjoy!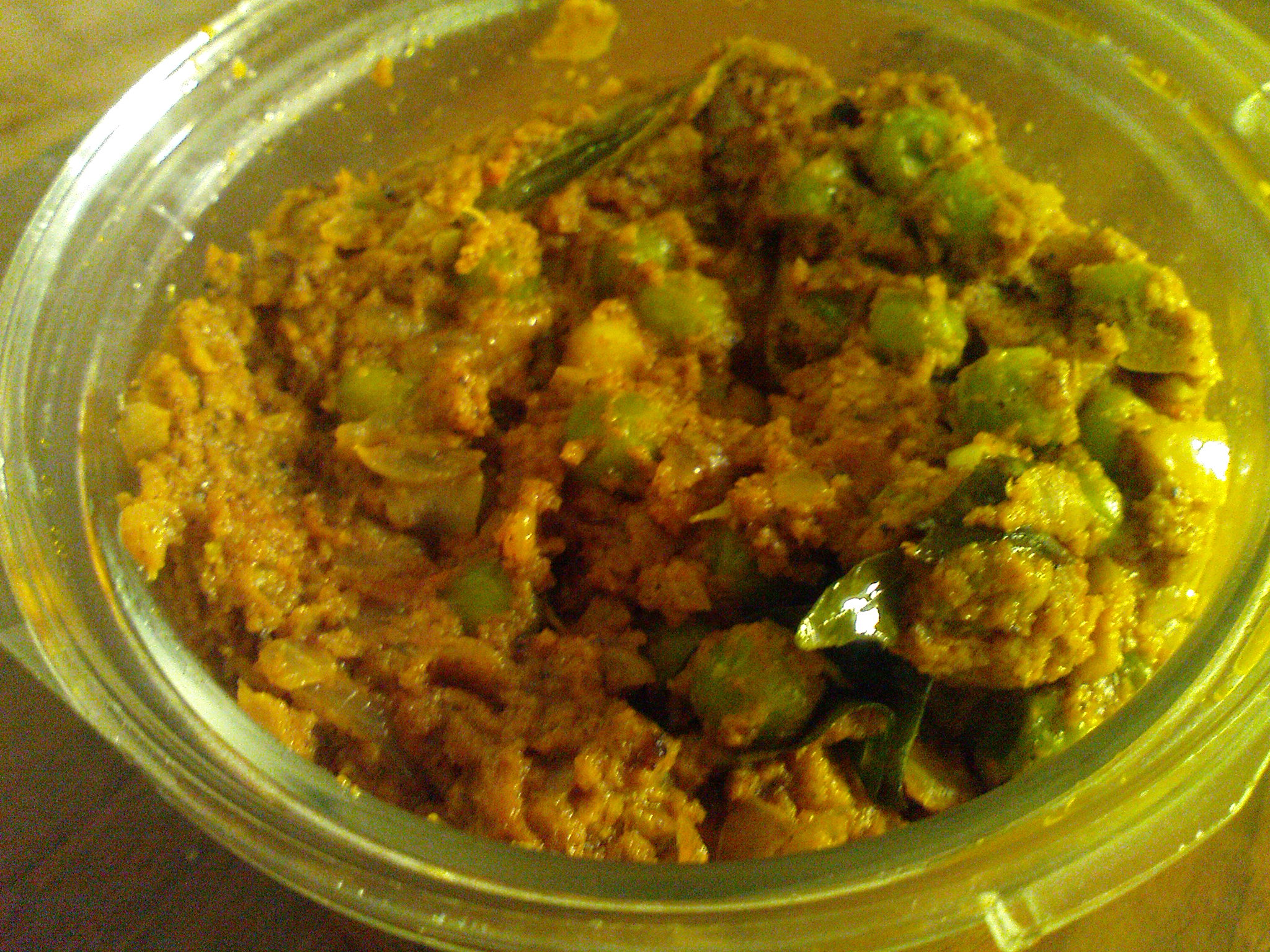 Ingredients
Green peas

1 Cup (16 tbs)

(Fresh/Freeze)

Onion

2

, finely chopped

Tomato

1

, finely chopped

Green chilly

1

, slit lengthwise

Fennel seeds

2 Teaspoon

(In Which 1Tsp Crushed)

Grated coconut

1⁄4 Cup (4 tbs)

Turmeric powder

1 Teaspoon

Red chili powder

3 Teaspoon

Garam masala powder

1 Teaspoon

Coriander powder

2 Teaspoon

Curry leaves sprig

1

Salt

To Taste

Oil

1 Cup (16 tbs)

(For Frying)
Nutrition Facts
Serving size
Calories 836 Calories from Fat 719
% Daily Value*
Total Fat 81 g125.4%
Saturated Fat 12.2 g60.9%
Trans Fat 0 g
Cholesterol 0 mg
Sodium 211.3 mg8.8%
Total Carbohydrates 26 g8.5%
Dietary Fiber 9.7 g38.9%
Sugars 8.3 g
Protein 7 g13.4%
Vitamin A 19.8% Vitamin C 74.9%
Calcium 12.5% Iron 17%
*Based on a 2000 Calorie diet
Directions
1. Boil & cook the green peas in water with salt and drain.
2. Grind the grated coconut with 1 tsp fennel seeds in to fine paste and keep aside. (If you are using ready-made coconut paste, use fennel seeds while seasoning alone.)
3. Heat oil in kadai, add the crushed fennel seeds, let them turn light brown, now add the onions, green chilly, curry leaves and saute till transparent.
4. Add the tomatoes and saute till they are cooked to mash.
5. Now add the turmeric powder, red chilly powder, coriander powder, garam masala, salt and saute till the masala's raw smell goes.
6. Add the coconut paste and saute for 2mins.
7. Add water for the curry and bring to boil.
8. When curry is half thick add the cooked peas and saute adding oil till dry. ( Can be had as curry also for rice or make it dry for side dish).
Green Peas masala is ready to serve hot !!

Anonymous says :
how much oil to add for the saute
Posted on:
17 September 2011 - 9:11am

acrobat 2011 says :
nice dish... i made it ..
Posted on:
12 July 2011 - 6:59am

Shamna says :
Thk u, its a simple and tasty dish.
Posted on:
18 May 2011 - 8:09am

pooja chaurasia says :
yummy....I like this
Posted on:
6 September 2010 - 7:18am

Geetha C says :
Thanks for the Wonderful receipe. Too simple and very delicious.
Posted on:
10 March 2010 - 12:02pm

ruby.. says :
i tried this yummy dish...very tasty...thanx....
Posted on:
20 December 2009 - 3:09pm

Baski says :
I lov this dish. Thanks for sharing.. I am trying this now..
Posted on:
2 October 2009 - 6:30pm

Dips19 says :
It really was a great recipe.I was so tired after coming from work and wanted to cook something which didnt take more time and this recipe really helped me. Very easy to cook in less time and belive me it was very delicious.
Posted on:
23 July 2009 - 4:41pm

shailly says :
very yummy.
Posted on:
1 July 2009 - 4:34am

Mmm.. Thanks Srividya. My favourite too. Try it!
Posted on:
3 November 2008 - 7:56pm

Delicious recipe Sanghi :)
Posted on:
3 November 2008 - 3:46am