»

Recipes

»

Indian

»

Gujarati

»

Dhokla

»

Green Gram Dal Dhokla
Green gram dal dhokla Recipe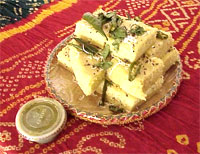 Ingredients
Green gram dal

3 Cup (48 tbs)

, skinned

Green chilies

5

(adjust to taste)

Salt

To Taste

Ghee

3 Tablespoon

Cumin seeds

To Taste

Cilantro leaves

1 Cup (16 tbs)
Nutrition Facts
Serving size
Calories 568 Calories from Fat 111
% Daily Value*
Total Fat 13 g19.6%
Saturated Fat 7.4 g36.9%
Trans Fat 0 g
Cholesterol 30.2 mg
Sodium 120.2 mg5%
Total Carbohydrates 85 g28.4%
Dietary Fiber 22.1 g88.4%
Sugars 9.5 g
Protein 32 g64.5%
Vitamin A 11.8% Vitamin C 63.1%
Calcium 18.4% Iron 52.2%
*Based on a 2000 Calorie diet
Directions
Wash and soak green grams dal for 5-6 hours. Wash and beat and remove the skin. Remove the skin by beating the dal and removing water.
Add the squeezed dal and green chili and grind to paste. Add salt and just churn and pour the batter in the greased thali. Sprinkle cilantro leaves.
In a pot boil water. Put the thali in the pot. Steam out dhokla. After 10 minutes remove the thali. Cool and cut into pieces.
Heat ghee in a pan. Add cumin seeds and pour this baghar on the dhokla and serve this dhokla warm with ghee or chutney.

Anonymous says :
It seems like a lot of work using the whole moong with skin on and then discarding the skin after soaking? What difference in taste or texture is there if you started off with the split skinless moong? Just soak it in water overnight, drain and then blend it in a modern day blender? I accept that the old ways usually are the best, but too many of us have moved on without stay at home wives or mothers and time is of essence to live the fuller lives these days.
Posted on:
23 December 2009 - 11:36am

This dhokla recipe is the best one. I will try this recipe.
Posted on:
25 April 2008 - 12:37pm