»

Recipes

»

Bean

»

Green Beans In Sour Cream Sauce
Green Beans In Sour Cream Sauce Recipe
Hey, its weekend! It's time for some Green Beans In Sour Cream Sauce once more! The marriage of the amazing flavors of Beans with other ingredients is the secret to this Green Beans In Sour Cream Sauce. It is the answer when you look for a tasty Side Dish. There is no bigger sin than reading this recipe of Green Beans In Sour Cream Sauce and not trying it out.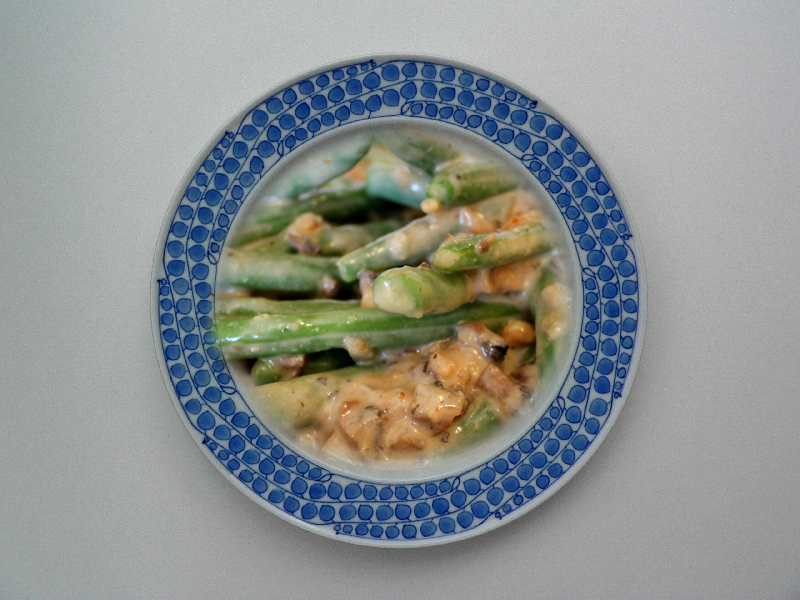 Ingredients
Green beans

1 1⁄2 Pound

Onion

1 Medium

, chopped

Salt

1 Teaspoon

Instant flour

2 Tablespoon

Sour cream

2⁄3 Cup (10.67 tbs)

Lemon juice

1 Teaspoon

Parsley

1 Tablespoon

, minced

Pepper

1⁄8 Teaspoon
Nutrition Facts
Serving size: Complete recipe
Calories 735 Calories from Fat 277
% Daily Value*
Total Fat 31 g48.4%
Saturated Fat 17.8 g89%
Trans Fat 0 g
Cholesterol 79.7 mg
Sodium 2125.3 mg88.6%
Total Carbohydrates 98 g32.5%
Dietary Fiber 28.8 g115.4%
Sugars 24.1 g
Protein 22 g43.2%
Vitamin A 43% Vitamin C 64.8%
Calcium 24.3% Iron 16.9%
*Based on a 2000 Calorie diet
Directions
MAKING
1. Cut beans diagonally into 1-inch slices.
2. Cook beans and onion with 1/2 teaspoon salt in 1 cup boiling water until tender. Drain and reserve1/2 cup liquid.
3. Blend flour with sour cream, lemon juice and re- served liquid. Cook over low heat, stirring constantly, until sauce thickens. Stir in parsley, remaining salt and pepper; pour sauce over beans.

SERVING
4. Serve immediately.