»

Recipes

»

Soup

»

Pea Soup

»

Green Pea Soup
Green Pea Soup Recipe
Peas impart not only a lovely verdant color to this soup, but also a sweet, delicate taste, which is tempered by the heat of the red chili and black pepper. This creamy, delicious soup is wonderful on a cold winter evening.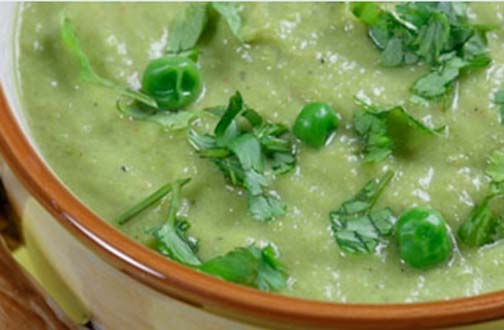 Ingredients
Sweet peas/10 ounce package of frozen sweet peas

1 1⁄2 Cup (24 tbs)

Light olive oil

2 Tablespoon

Onion

1

, chopped

Tomato

1

, chopped

Potato

1 Medium

, chopped

Cumin seeds

1⁄2 Teaspoon

Mint leaves

4

Whole milk/Low fat milk

1 1⁄2 Cup (24 tbs)

Salt

To Taste

Red chili powder

1⁄2 Teaspoon

Ground black pepper

1⁄2 Teaspoon

Brown sugar

3⁄4 Teaspoon

Cilantro

1 Tablespoon

, chopped

Cooked peas

1 Cup (16 tbs)
Nutrition Facts
Serving size
Calories 254 Calories from Fat 96
% Daily Value*
Total Fat 11 g16.6%
Saturated Fat 2.7 g13.5%
Trans Fat 0 g
Cholesterol 8.5 mg
Sodium 143.1 mg6%
Total Carbohydrates 32 g10.6%
Dietary Fiber 6.9 g27.6%
Sugars 12.7 g
Protein 10 g19.2%
Vitamin A 23.7% Vitamin C 42.9%
Calcium 13.4% Iron 13.4%
*Based on a 2000 Calorie diet
Directions
1. In a saucepan filled with enough water to cover, cook peas for 8–10 minutes, until tender. Remove from heat, discard the water, and set aside peas. Reserve 2 Tbsp. of cooked peas for garnish.
2. In a large saucepan, heat the oil. Add onions, tomato, potato, and cumin seeds, and sauté for 5–7 minutes, until the onions are tender. Let cool for 5 minutes.
3. Transfer the contents from the large saucepan into a blender fitted with a steel blade or a food processor. Add mint leaves, milk, and cooked peas, and puree.
4. Pour the mixture back into the large saucepan. Add salt, red chili powder, black pepper, and brown sugar, and simmer for 5 minutes.
5. Serve soup hot in bowls. Garnish with chopped cilantro, reserved cooked peas, and croutons.
This video is a creation of flexcook. You can visit
flexcook
for complete recipes, and more videos.