»

Recipes

»

Soup

»

Green Herb Soup
Green Herb Soup Recipe
Hey there, this green herb soup recipe is sure to get you hooked to it! Treat your near and dear ones with this amazing soup as an appetizer. Trust me! this recipe is unbelievable and you must try it out.
Green Herb Soup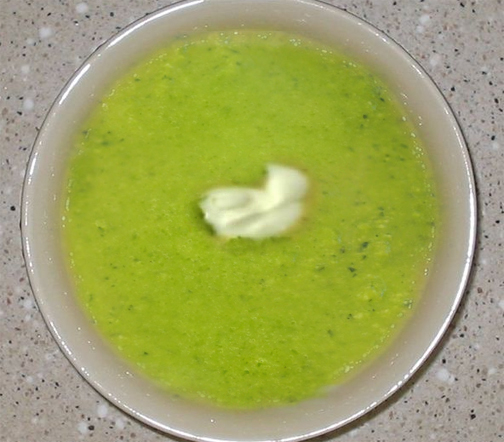 Ingredients
Butter

20 Milliliter

(1.5 Tablespoon)

Green onions

6

, whites and greens sliced

Potato

1 Large

, peeled and diced

Lettuce leaves

4

, washed and torn into small pieces (Outer)

Water

500 Milliliter

(2 Cups)

Lemon

1⁄2

, juiced

Pepper

To Taste

Fresh herbs

45 Milliliter

, chopped (3 Tablespoon)

Cream

125 Milliliter

(1/2 Cup)
Nutrition Facts
Serving size
Calories 217 Calories from Fat 49
% Daily Value*
Total Fat 5 g8.1%
Saturated Fat 3.7 g18.5%
Trans Fat 0 g
Cholesterol 13 mg
Sodium 73.4 mg3.1%
Total Carbohydrates 40 g13.5%
Dietary Fiber 2.8 g11.3%
Sugars 12.1 g
Protein 3 g6.7%
Vitamin A 42.4% Vitamin C 55.3%
Calcium 10% Iron 6.8%
*Based on a 2000 Calorie diet
Directions
MAKING
1 In a pan, melt butter.
2 Add green onions and fry over low heat until tender.
3 Add diced potato and stir for 1 minute.
4 Add lettuce to the pan.
5 Cover with water and bring to a boil.
6 Simmer for 20 minutes.
7 Stir in lemon juice and pepper.
8 In a blender jar, transfer the mixture and add in herbs.
9 Blend until smooth or push soup through a sieve, then add herbs.
10 Add cream and chill.

SERVING
11 Serve chilled in individual soup bowls.