»

Recipes

»

Bean

»

Green Beans In Tomato Sauce
Green Beans in Tomato Sauce Recipe
Green Beans in Tomato Sauce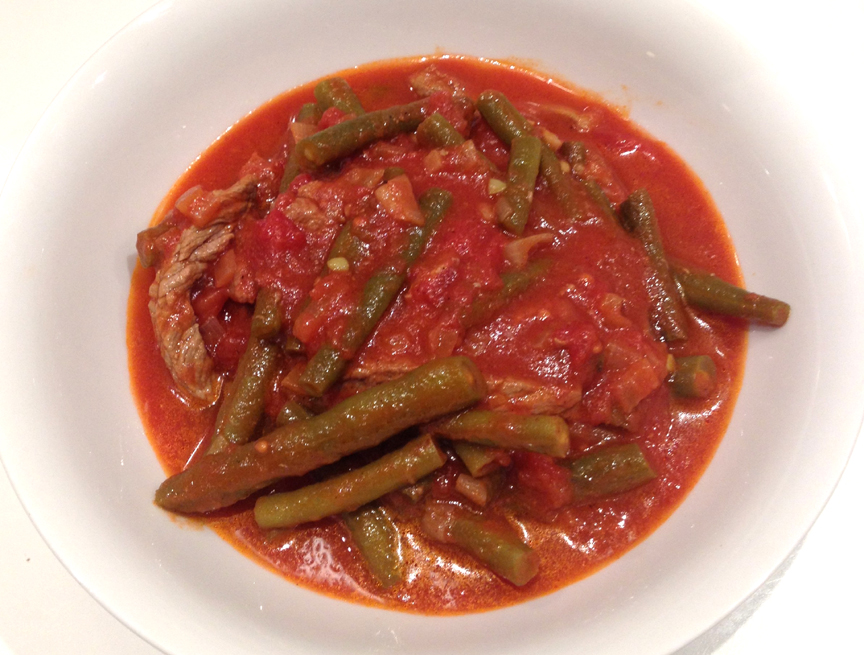 Ingredients
Olive oil

3 Tablespoon

Onion

8 Ounce

, finely sliced (250 Gram)

Sugar

1⁄2 Teaspoon

Tomatoes

1 Pound

, skins and seeds removed and finely chopped (500 Gram)

Sun dried tomatoes in oil

4

, or snipped and soaked in boiling water, pounded to a rough paste (For When The Fresh Ones Are Uninspiring)

Garlic

3 Clove (15 gm)

, peeled, finely chopped

Celery stalks with leaves

3

, finely chopped

Bay leaf

1

, lightly crushed

Ground clove

1⁄16 Teaspoon

Ground allspice

1⁄16 Teaspoon

Freshly ground black pepper

To Taste

Fresh green beans

1 1⁄2 Pound

, trimmed and broken into halves / thirds (700 Gram)

Salt

To Taste
Nutrition Facts
Serving size: Complete recipe
Calories 939 Calories from Fat 452
% Daily Value*
Total Fat 51 g79.2%
Saturated Fat 6.6 g32.8%
Trans Fat 0 g
Cholesterol 0 mg
Sodium 583.6 mg24.3%
Total Carbohydrates 108 g36%
Dietary Fiber 37.6 g150.6%
Sugars 40.2 g
Protein 23 g45%
Vitamin A 87.8% Vitamin C 139.7%
Calcium 19% Iron 17.9%
*Based on a 2000 Calorie diet
Directions
In a heavy-bottomed pot heat the oil and saute the onion over gentle heat until transparent.
Sprinkle with sugar and cook for a minute to caramelize, stirring occasionally.
Add the tomatoes, garlic, celery, bay leaf, clove and allspice.
Season and simmer uncovered for about 10 minutes until the sauce begins to thicken.
Stir the beans into the pot, cover and simmer for a further 15-20 minutes, until the beans are tender.