»

Recipes

»

Chinese

»

Green Beans Chinese
Green Beans Chinese Recipe
Green Beans With Pork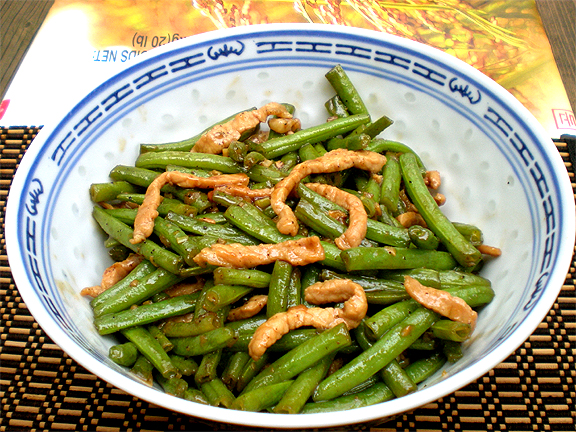 Ingredients
String beans

1 Pound

Boiling water

2 Cup (32 tbs)

Salt

1⁄2 Teaspoon

Pork tenderloin

1⁄3 Pound

Butter/Margarine / olive oil / salad oil

1 Tablespoon

Chopped ginger root

1 Teaspoon

Soy sauce

1 Tablespoon

Salt

To Taste

(If Needed)
Nutrition Facts
Serving size: Complete recipe
Calories 442 Calories from Fat 160
% Daily Value*
Total Fat 18 g27.8%
Saturated Fat 9.6 g48.2%
Trans Fat 0.1 g
Cholesterol 130.5 mg
Sodium 2334.2 mg97.3%
Total Carbohydrates 34 g11.5%
Dietary Fiber 15.6 g62.6%
Sugars 6.7 g
Protein 41 g81.3%
Vitamin A 7.6% Vitamin C 0.42%
Calcium 3.2% Iron 10%
*Based on a 2000 Calorie diet
Directions
1. Wash the beans, remove strings and ends, break in 2-inch lengths. Drop into 2 cups boiling water with 1/2 teaspoon salt. Remove immediately.
2. Cut pork in thin match strips.
3. Heat butter, margarine or oil. Saute the pork and ginger in the oil until lightly browned.
4. Add beans with 1/2 cup water and simmer 20 minutes. Add a few drops of soy sauce. Taste, add salt if needed.