»

Recipes

»

Greek

»

Greek Melamakarona
Greek Melamakarona Recipe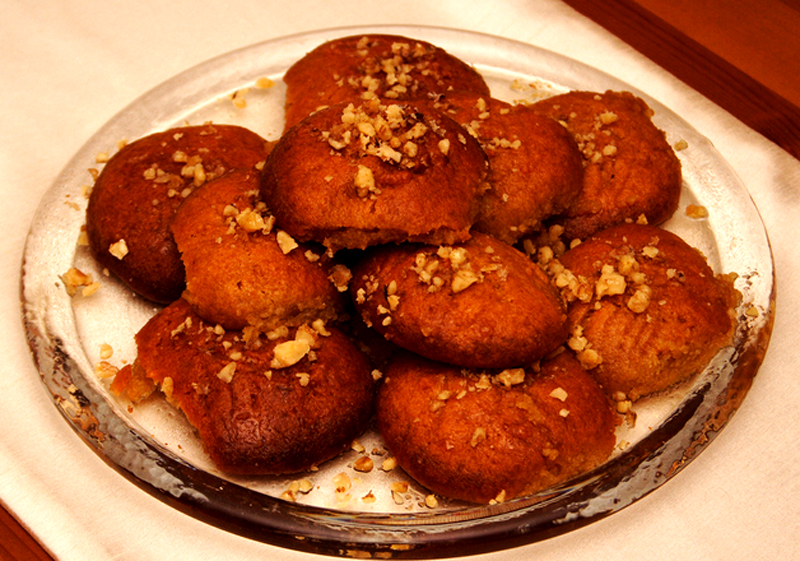 Summary
Difficulty Level
Easy
Health Index
Average
Ingredients
Cooking oil

1⁄3 Cup (5.33 tbs)

Butter

1⁄2 Cup (8 tbs)

, softened

Sugar

1⁄3 Cup (5.33 tbs)

Orange juice

1 Tablespoon

Baking powder

1 Teaspoon

Baking soda

1⁄2 Teaspoon

All purpose flour

2 Cup (32 tbs)

Sugar

3⁄4 Cup (12 tbs)

Honey

1⁄3 Cup (5.33 tbs)

Walnuts

1⁄3 Cup (5.33 tbs)

, finely chopped
Nutrition Facts
Serving size: Complete recipe
Calories 3832 Calories from Fat 1750
% Daily Value*
Total Fat 200 g307.4%
Saturated Fat 72.2 g361%
Trans Fat 0 g
Cholesterol 241.9 mg
Sodium 1100.9 mg45.9%
Total Carbohydrates 497 g165.7%
Dietary Fiber 9.2 g36.9%
Sugars 301.5 g
Protein 32 g64.5%
Vitamin A 57% Vitamin C 14.1%
Calcium 47.5% Iron 75.7%
*Based on a 2000 Calorie diet
Directions
In mixer bowl beat cooking oil into butter till blended.
Beat in the 1/3 cup sugar.
Add orange juice, baking powder, and baking soda; mix well.
With mixer add enough of the flour, a little at a time, to make a medium-soft dough.
Shape dough into 2-inch ovals and place on an ungreased baking sheet.
Bake in 350°F oven for 20 to 25 minutes or till golden.
Cool pastries on rack.
Meanwhile, in a saucepan combine the 3/4 cup sugar, honey, and 1/2 cup water.
Bring to boiling.
Boil gently, uncovered,for 5 minutes.
Dip cooled pastries into the warm syrup.
Sprinkle immediately with nuts.
Dry on wire rack.
Image Courtesy :
http://www.flickr.com/photos/futureshape/3126391954/