»

Recipes

»

Greek

»

Greek Hot Potato Salad
Greek Hot Potato Salad Recipe
Greek Hot Potato Salad is a delicious treat you'll love to gorge on. Prepare the Greek Hot Potato Salad effortlessly in minutes, and let us know your remarks after thorougly enjoying the recipe.
Greek Hot Potato Salad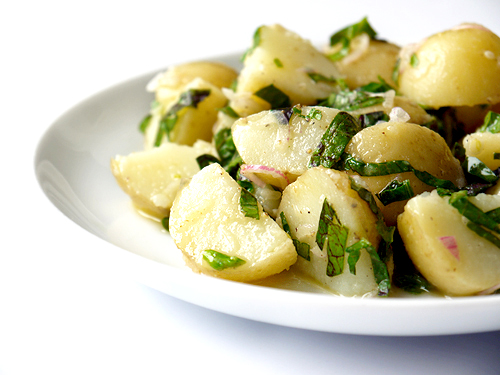 Ingredients
Potatoes

5 Large

(Peeled)

Lemon juice

2 Tablespoon

Boiling water

1 Cup (16 tbs)

Diced celery

1⁄2 Cup (8 tbs)

Onion

1 Large

Salt

To Taste

Parsley

1 Tablespoon

, chopped

Olive oil

1⁄2 Cup (8 tbs)

Pepper

To Taste
Nutrition Facts
Serving size: Complete recipe
Calories 2254 Calories from Fat 971
% Daily Value*
Total Fat 110 g169.1%
Saturated Fat 15.5 g77.4%
Trans Fat 0 g
Cholesterol 0 mg
Sodium 569.4 mg23.7%
Total Carbohydrates 310 g103.4%
Dietary Fiber 39.8 g159.2%
Sugars 26.9 g
Protein 35 g69.3%
Vitamin A 31.5% Vitamin C 588.7%
Calcium 30.7% Iron 77.7%
*Based on a 2000 Calorie diet
Directions
Cook potatoes in boiling salted water until tender.
Drain and keep hot.
Slice onion into a large bowl.
Sprinkle with salt and cold water and allow to stand for about 5 minutes; drain.
Slice hot potatoes into bowl with onion.
Add olive oil, lemon juice, and celery.
Mix well to distribute dressing.
Season to taste and garnish with chopped parsley.