»

Recipes

»

Greek

»

GREEK CHICKEN PITAS
GREEK CHICKEN PITAS Recipe
Greek food is so flavorful and fresh tasting. And many of the dishes are surprisingly simple to make. Using store bought tzatziki here is a time saver, but if you want to make it from scratch, it's pretty easy. It's just a mixture of plain Greek yogurt, garlic and cucumber pieces. You can skip the tzatziki if you don't like it, then just substitute some hummus to add in more moisture.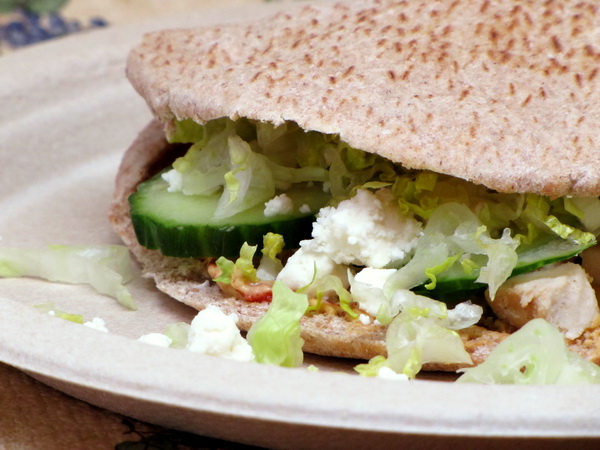 Ingredients
Chicken tenders

1 Pound

Greek seasoning

1 Teaspoon

(Mix Of Oregano, Salt, Onion Powder, Garlic Powder And Paprika)

Tzatziki sauce

1⁄2 Cup (8 tbs)

Pita breads

4

(8 Inch)

Romaine lettuce

2 Cup (32 tbs)

, chopped

Plum tomatoes

2

, sliced

Cucumber

1

, seeded and cut into strips

Crumbled feta cheese

1⁄4 Cup (4 tbs)

Pam

1
Nutrition Facts
Serving size
Calories 518 Calories from Fat 224
% Daily Value*
Total Fat 25 g38.3%
Saturated Fat 5.3 g26.3%
Trans Fat 0 g
Cholesterol 54.8 mg
Sodium 950.4 mg39.6%
Total Carbohydrates 50 g16.7%
Dietary Fiber 3.3 g13.3%
Sugars 1.8 g
Protein 24 g48.4%
Vitamin A 48.8% Vitamin C 17.9%
Calcium 12.3% Iron 13.9%
*Based on a 2000 Calorie diet
Directions
Spray a large skillet with Pam. Heat on medium high and add chicken. Sprinkle with the seasoning and cook 6-8 minutes or until lightly browned and done throughout.
Slice pitas so you will be able to fill the pocket. Add chicken, lettuce, tomatoes, cucumbers, feta and tzatziki. I often slice the chicken up first so it gets more distributed throughout the sandwich.
* 310 calories per serving
This recipe is excerpted from the book
400 or Less - Recipes from Around the World
by
Aileen Figula Kiter
. To purchase this book, please visit:
Amazon.Com