»

Recipes

»

Greek

»

Greek Baked Pasta
Greek Baked Pasta Recipe
The moist and fragrant casserole pastitsio combines béchamel (a sauce of butter, flour and milk), pasta, ground lamb, tomato sauce, cheese, cinnamon and nutmeg. Instead of béchamel, Grace Parisi stirs a ricotta mixture into the pasta before baking it.
Picture Credit: Yunhee Kim
Recipe By: Grace Parisi
Pairing Notes: Blends from the Italian grape Refosco and the Greek Mavrodaphne are fabulous with this Greek Baked Pasta.
For more recipes, please visit Foodandwine.com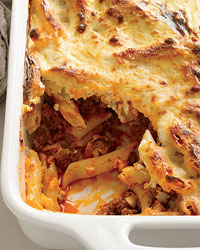 Ingredients
Extra virgin olive oil

2 Tablespoon

Lean ground lamb

1 1⁄2 Pound

Onion

1

, finely chopped

Dried oregano

1 Teaspoon

, crumbled

Cinnamon

3⁄4 Teaspoon

Ground cloves

1 Pinch

Freshly ground pepper

To Taste

Salt

To Taste

Canned marinara sauce

3 Cup (48 tbs)

(Or Jarred)

Ziti/Penne

1 Pound

Fresh ricotta cheese

1 1⁄2 Pound

(3 Cups)

Egg yolks

4 Large

Ground nutmeg

1⁄2 Teaspoon

Freshly grated parmigiano reggiano cheese

3⁄4 Cup (12 tbs)
Nutrition Facts
Serving size
Calories 964 Calories from Fat 504
% Daily Value*
Total Fat 58 g88.8%
Saturated Fat 25.3 g126.4%
Trans Fat 0 g
Cholesterol 278.3 mg
Sodium 495.7 mg20.7%
Total Carbohydrates 67 g22.3%
Dietary Fiber 9 g35.9%
Sugars 9 g
Protein 50 g99.8%
Vitamin A 14.2% Vitamin C 3.8%
Calcium 29.3% Iron 24.1%
*Based on a 2000 Calorie diet
Directions
1. Preheat the oven to 350°. Bring a large pot of salted water to a boil. In a large saucepan, heat the olive oil until shimmering. Add the lamb, onion, oregano, cinnamon, cloves and a generous pinch each of salt and pepper. Cook over high heat, stirring frequently, until the lamb is no longer pink and any liquid has evaporated, about 8 minutes. Add the marinara sauce and bring to a boil. Boil over high heat, stirring occasionally, until the sauce has reduced slightly, about 5 minutes.
2. Cook the pasta until barely al dente; drain and return to the pot. Meanwhile, in a blender, blend 2 cups of the ricotta with the yolks, nutmeg and 1/2 cup of the Parmigiano-Reggiano until smooth. Season with salt and pepper. Pulse in the remaining ricotta.
3. Add the lamb ragù to the pasta and toss. Transfer the pasta to a 9-by-13-inch baking dish. Pour the ricotta mixture on top and sprinkle with the remaining 1/4 cup of Parmigiano-Reggiano. Bake in the center of the oven for about 20 minutes, until heated through. Turn the broiler on and broil until the top is golden brown. Let stand for a few minutes before serving.

MAKE AHEAD
The baked pasta can be covered and refrigerated for up to 2 days. Serve hot.