»

Recipes

»

Granola

»

Granola Snack
Granola Snack Recipe
My sister likes this granola snack recipe. This recipe was given to her by one of her friends. Whenever there is a evening snack party in our house, she prepares this snack. All the guests like this snack very much and thank her for preparing it. Which makes my sister very happy. Have a happy moment must try this granola snack recipe.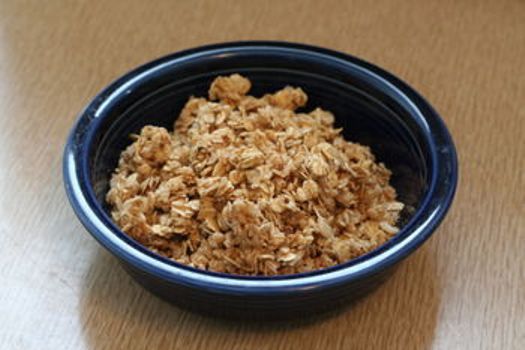 Ingredients
Oatmeal

3 Cup (48 tbs)

Wheat germ

1⁄4 Cup (4 tbs)

Dry milk

1⁄2 Cup (8 tbs)

Sesame seeds

1⁄2 Cup (8 tbs)

Dried fruit

1 Cup (16 tbs)

, chopped

Flaked coconut

1⁄2 Cup (8 tbs)

Pecans and walnuts

1⁄4 Cup (4 tbs)

, chopped

Slivered almonds

1⁄4 Cup (4 tbs)

Vegetable oil

1⁄2 Cup (8 tbs)

Honey

1⁄2 Cup (8 tbs)
Nutrition Facts
Serving size
Calories 1249 Calories from Fat 540
% Daily Value*
Total Fat 66 g102%
Saturated Fat 20.4 g102%
Trans Fat 0 g
Cholesterol 15.5 mg
Sodium 157.5 mg6.6%
Total Carbohydrates 149 g49.6%
Dietary Fiber 13.8 g55.4%
Sugars 66.6 g
Protein 23 g46.8%
Vitamin A 3% Vitamin C 2.9%
Calcium 107.3% Iron 218.2%
*Based on a 2000 Calorie diet
Directions
Stage1-Combine all ingredients in a bowl and mix well.

Stage2-Warm the oil slightly and mix with the honey.

Stage3-Stir over the granola all at once and mix well using a large wooden spoon.

Stage4-Spread on oiled cookie sheets or roasting pans and bake (in about 3 batches) at 325degrees Fareinhite for 15minutes, turning over in pan halfway through the cooking time.

Stage5-Bake until granola is a nice toasty brown.