»

Recipes

»

Torte

»

Grandmother's Nut Torte
Grandmother's Nut Torte Recipe
Try out my Grandmother's special Nut Torte - a truly exquisite coffee-break partner! Amazingly simple, this Nut Torte tastes exactly like how my Grandmother used to make it! Try it out - it's simply delicious!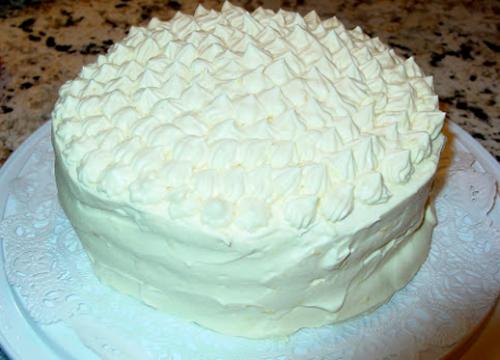 Ingredients
Eggs

3

, separated

Sugar

6 Tablespoon

, divided

Flour

6 Tablespoon

, sifted

Baking powder

1⁄2 Teaspoon

Salt

1⁄2 Teaspoon

Dark corn syrup

1 Tablespoon

Nuts

6 Tablespoon

, chopped

Heavy cream

1 Cup (16 tbs)
Nutrition Facts
Serving size
Calories 384 Calories from Fat 228
% Daily Value*
Total Fat 25 g39%
Saturated Fat 11.3 g56.7%
Trans Fat 0 g
Cholesterol 160.5 mg
Sodium 301.7 mg12.6%
Total Carbohydrates 32 g10.8%
Dietary Fiber 1.5 g5.9%
Sugars 16.5 g
Protein 9 g17.4%
Vitamin A 14.2% Vitamin C 0.4%
Calcium 9.4% Iron 6.8%
*Based on a 2000 Calorie diet
Directions
Beat the egg yolks until thick and lemon-colored.
Beat in 3 tablespoons of the sugar.
Beat egg whites until stiff but not dry.
Gradually beat in remaining sugar.
Sift flour, baking powder and salt together.
Add to yolk mixture and stir until smooth.
Add syrup, fold in egg whites and chopped nuts.
Line the bottom of a 9-inch square cake pan with waxed paper.
Pour batter into pan.
Bake in a moderate oven (350°F.) 30 minutes.
Cool.
Whip cream and flavor to taste.
Cover cake with cream before serving.