»

Recipes

»

Sauce

»

Grand Marnier Sauce
Grand Marnier Sauce Recipe
Grand Marnier Sauce is a mouth watering dessert recipe. I am sure this tasty and irresistible Grand Marnier Sauce will get you a lot of compliments!
Grand Marnier Sauce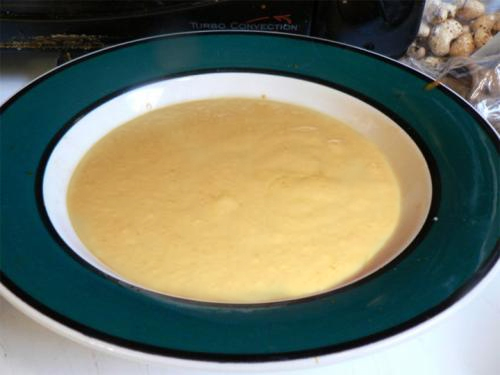 Ingredients
Milk

2 Cup (32 tbs)

Butter

1⁄4 Cup (4 tbs)

(1/2 stick)

Sugar

1⁄3 Cup (5.33 tbs)

Egg yolks

3

(at room temperature)

Cornstarch

2 Tablespoon

Vanilla

1 Teaspoon

Grand marnier

1⁄3 Cup (5.33 tbs)

Whipping cream

1⁄3 Cup (5.33 tbs)
Nutrition Facts
Serving size: Complete recipe
Calories 1695 Calories from Fat 879
% Daily Value*
Total Fat 99 g152%
Saturated Fat 59.3 g296.5%
Trans Fat 0 g
Cholesterol 831.9 mg
Sodium 233.8 mg9.7%
Total Carbohydrates 142 g47.3%
Dietary Fiber 0.27 g1.1%
Sugars 95.7 g
Protein 22 g44.5%
Vitamin A 50.3% Vitamin C
Calcium 62.8% Iron 8.5%
*Based on a 2000 Calorie diet
Directions
Combine milk, butter and 1/3 cup sugar in medium saucepan over medium heat and bring to boil, stirring occasionally.
Using electric mixer, beat yolks and remaining sugar in small bowl until thickened.
Add cornstarch and continue beating until mixture is light and lemon colored.
Gradually beat in enough hot milk to warm mixture slightly.
Strain into remaining milk, whisking until blended.
Place over medium heat and bring to boil.
Remove from heat and stir in vanilla.
Let stand until cool.