»

Recipes

»

Chicken

»

Gourmet Stuffed Chicken Breasts
Gourmet Stuffed Chicken Breasts Recipe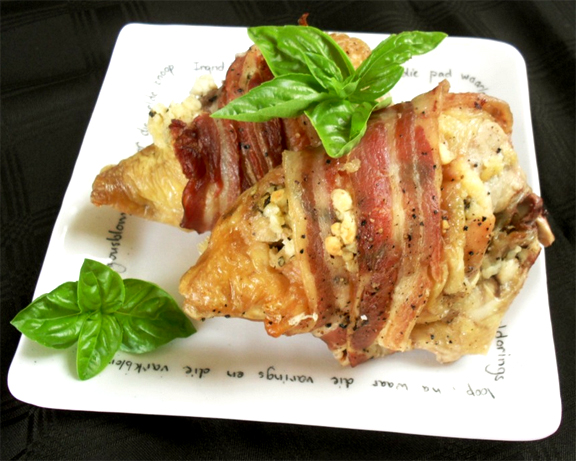 Ingredients
Butter/Margarine

1 Tablespoon

Long grain and wild rice

6 Ounce

(1 Package)

Chopped onion

2 Tablespoon

Water

1 1⁄2 Cup (24 tbs)

Dry sherry

1 Cup (16 tbs)

Toasted chopped almonds

3⁄4 Cup (12 tbs)

Whole chicken breasts

6

, skinned and boned

Salt

1⁄2 Teaspoon

Bacon slices

6

, cut into half
Nutrition Facts
Serving size: Complete recipe
Calories 2515 Calories from Fat 684
% Daily Value*
Total Fat 75 g115.1%
Saturated Fat 15.8 g79.2%
Trans Fat 0.3 g
Cholesterol 641.1 mg
Sodium 3448.4 mg143.7%
Total Carbohydrates 163 g54.3%
Dietary Fiber 13.3 g53.2%
Sugars 4.3 g
Protein 271 g541.7%
Vitamin A 11.8% Vitamin C 24.3%
Calcium 30.5% Iron 81%
*Based on a 2000 Calorie diet
Directions
Preheat oven to 350°F (177°C).
In a large saucepan melt butter or margarine.
Add contents of rice packet and onion.
Cook until lightly browned, stirring constantly.
Stir in water, sherry and contents of seasoning packet.
Bring to a boil and cover.
Simmer until all liquid is absorbed, about 25 minutes.
Stir in almonds.
Divide rice mixture into 6 equal mounds (a rounded 1/2 cup each) in a 12" x 8" baking dish.
Cover each mound with a chicken breast.
Sprinkle with salt.
Arrange 2 pieces of bacon over each chicken breast.
Cover with aluminum foil, crimping it tightly to edges of dish.
Bake 45 minutes.
Remove foil and continue baking until chicken is tender, about 30 minutes.