»

Recipes

»

Goulash

»

Beef Goulash
Beef Goulash Recipe
Looking for a Goulash Recipe?A good old Hungarian goulash recipe made with onions,beef stew,paprika & Worcestershire sauce. Enjoy!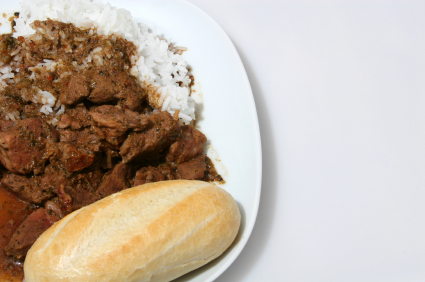 Ingredients
Beef stew meat

2 Pound

Butter

1⁄2 Cup (8 tbs)

(1 stick)

Chopped onion

1 Medium

Paprika

2 Teaspoon

Salt

3⁄4 Teaspoon

Worcestershire sauce

1 Teaspoon

Flour

2 Tablespoon

Garlic powder

2 Teaspoon

Beef bouillon

14 Gram

Tomato sauce

2 Can (20 oz)

(Del Monte)

Water

4 Cup (64 tbs)
Nutrition Facts
Serving size
Calories 648 Calories from Fat 395
% Daily Value*
Total Fat 44 g68.1%
Saturated Fat 17.4 g87.2%
Trans Fat 0 g
Cholesterol 159.8 mg
Sodium 383.3 mg16%
Total Carbohydrates 18 g5.9%
Dietary Fiber 2.9 g11.7%
Sugars 7.1 g
Protein 43 g87%
Vitamin A 41% Vitamin C 27.5%
Calcium 5.1% Iron 20%
*Based on a 2000 Calorie diet
Directions
In a pan,melt butter & add onion & meat to the butter.Sprinkle garlic powder & paprika on the meat,saute meat till it changes color to brown.After it turns brown pour in the cans of tomato sauce to meat,add beef bullion to the cans & add to the boiling water to dissolve,add this to goulash.Pour in 2 cups of water into it. Add Worcestershire sauce, cover and cook on low flame 2 hours.
When the meat turns tender,thicken the liquid in the meat by adding flour to it.
Serve it hot over rice or eat it with bread & butter.

seraphim says :
Sorry, but there is nothing HUngarian about a Worchester sauce, leave that one out, and why use garlic powder, if you can use the real one, i mean real garlic, diced. And dont use the boullion. Put there a plenty of vegetables, mainly paprika, fresh tomatoes, a lot of onion (as the base, and also in the middle of the cooking) , garlic and the most important is - potatoes. It will give your goulash structuire and flavor. and 1 and a half hour is never enough for beef to cook, cook it slowly, so that the meat is tender
Posted on:
21 August 2010 - 1:27am

Hungarian Gulyasleves (goulash) is also yummy with dumplings those made with potatoes or semolina a terrific. Often it is served with buttered noodles-hand made. Sometimes carraway seed is added to Goulash, but the key is to use good Hungarian papriks and good meat. I use smoked paprika sometimes for a real earthy flavour. Czech Goulash is served With Bread Dumplings, lamb goulash is served with sweet/sour red cabbage, and potato dumplings. Goulash and also Goulash Soup are very popular all over Eastern Europe and each country and each cook has their own slant. All that I have eaten are wonderful. Shanti/Mary-Anne
Posted on:
9 February 2008 - 8:59pm
Goulash tastes great with macaroni too. Try it.
Posted on:
9 February 2008 - 7:32pm