»

Recipes

»

Indian

»

Gothambu Kanji
Gothambu Kanji Recipe
This dish can be eaten as a breakfast food or as supper. Doctors prescribe wheat porridge for diabetic patients as part of their menu. It is a very light food.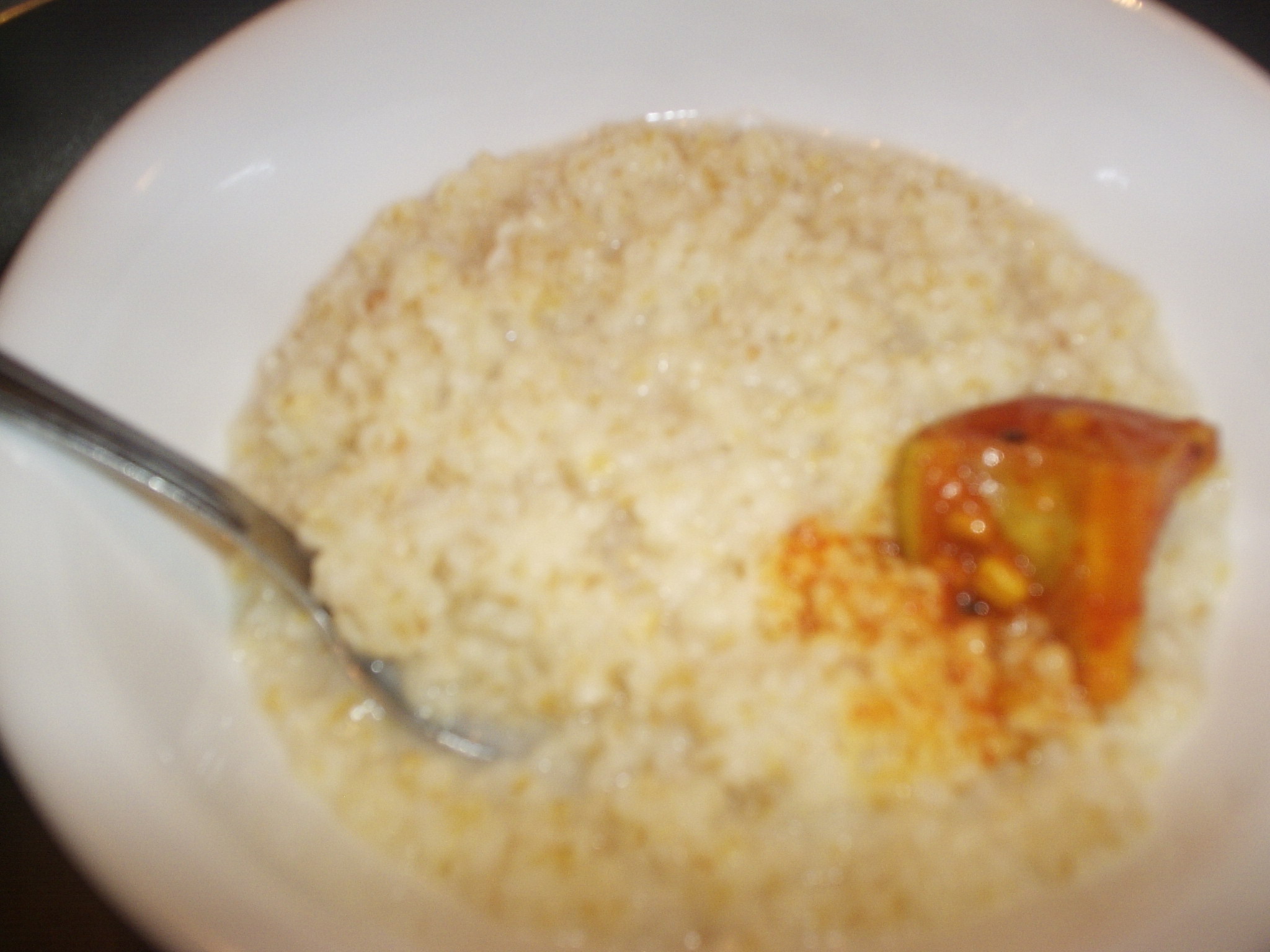 Summary
Preparation Time
2 Min
Cooking Time
30 Min
Ready In
32 Min
Difficulty Level
Very Easy
Health Index
Healthy++
Servings
2
Ingredients
Cracked wheat

1 Cup (16 tbs)

(Cracked wheat is a fine)

Water

4 Cup (64 tbs)

Milk

1⁄2 Cup (8 tbs)

Salt

To Taste

(as required)
Nutrition Facts
Serving size
Calories 295 Calories from Fat 25
% Daily Value*
Total Fat 3 g4.4%
Saturated Fat 1.2 g6.2%
Trans Fat 0 g
Cholesterol 5.6 mg
Sodium 229.4 mg9.6%
Total Carbohydrates 61 g20.3%
Dietary Fiber 14 g55.8%
Sugars 3.3 g
Protein 11 g22.4%
Vitamin A 1.3% Vitamin C
Calcium 9.1% Iron 10.5%
*Based on a 2000 Calorie diet
Directions
1. Wash the wheat and keep aside.
2. Boil water in a rice cooker and drop in the wheat.
3. Cook till almost done and pour in the milk and add salt.
4.Bring to a boil and the dish is done.

It should be served hot with spicy pickles.

TIP: The dish should not be dry. It should be in a semi fluid state. If left over is there and you plan to use it the next day, it should be loosened with hot milk or water (because the porridge tends to thicken as it cools)

Is it south Indian recipe? This Gothambu Kanji recipe would be a great choice for diabetics.My father has diabetes. So I would defenitely pass this Gothambu Kanji recipe to my father. By the way, thanks a lot for this nice Gothambu Kanji recipe. This is really a wonderful.
Posted on:
2 February 2008 - 5:26am